Maintaining your nails can be quite the task, but the payoff is having picture-perfect fingers to flaunt.
Though manicures might be a bit pricey and time-intensive, they offer a fantastic opportunity to unwind and indulge in some self-care. 
Bringing along your friends to the nail salon adds an extra layer of enjoyment to the experience.
A girls' day out is the perfect remedy for stress relief, and the beautiful polish at the end is an added bonus. 
If you're looking to save some money, consider planning a nail day at home.
Round up your friends, break out the polish, and enjoy a DIY pampering session.
Whether you opt for a salon visit or choose the comfort of your home, the timeless short nail look is a classic choice.
These designs offer a stylish escape from the challenges of maintaining long manicures while still ensuring a polished appearance. 
Most women are familiar with the frustration of dealing with a broken nail, not to mention the adjustments needed when transitioning from short to long nails, impacting daily activities like texting and typing. 
For effortlessly chic fingers with minimal hassle, experiment with one of these delightful short nail designs.
Chic Cuticle Accents for Short Nails
Image Credit: Pinterest
Embrace the trend of cuticle designs with this stylish option. 
The pink and white nails get an extra dose of flair with a metallic cuticle strip and delicate pearl embellishments, elevating the look to pure sophistication. 
Perfect for any occasion, these short, picture-perfect nails are an ideal match for a summer wedding or any glamorous event.
Mermaid-Inspired Glam for Trendsetters
Image Credit: Pinterest
Channel your inner mermaid with these stunning coral nails that are as trendy as they come. 
The glittery touch adds a captivating sparkle, and the coral hue is one of the hottest colors of the season. 
While coral and glitter are timeless, the design itself is a must-try trend. Dive into this manicure while the look is still making waves.
Marble Elegance for Everyday Glam
Image Credit: Pinterest
Elevate your short nails with the timeless allure of marble.
This chic design in coral tones is versatile enough for everyday wear, providing a touch of sophistication to your look. 
Feel free to experiment with different colors to match your mood and outfit, making this manicure a stylish go-to for various occasions.
Elegant 3D Design for Wedding Glam
Image Credit: Pinterest
Unleash the beauty of a 3D manicure with this stunning option that incorporates the trendiest nail designs. 
Featuring matte polish, cuticle accents, and a captivating geometric pattern, this look is tailor-made for weddings. 
Whether you're the bride, part of the bridal party, or simply a guest, these fancy short nails are the epitome of elegance for the special day.
Contrasting Elegance: Matte and Glitter Short Nails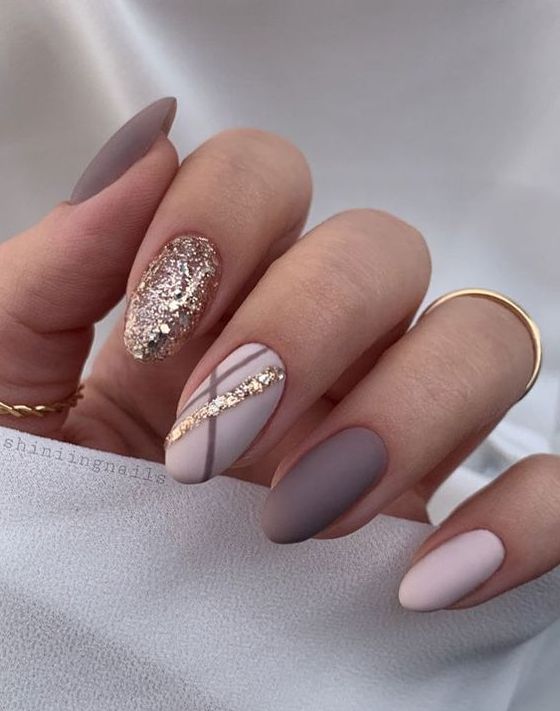 Image Credit: Pinterest
Embrace the allure of opposites with this striking combination of flat matte nails and shiny glitter polish. 
The stark contrast between the two textures creates a visually appealing and easy-to-achieve design, perfect for an at-home manicure. 
For a personalized touch, you can even create your own matte polish by blending clear polish with a matte eyeshadow.
Chic Simplicity: Matte and Rhinestone Nail Elegance
Image Credit: Pinterest
Elevate your nails with a touch of sophistication by combining matte polish with a rhinestone cuticle design. 
The harmonious pairing of pink and gray creates a chic color scheme suitable for everyday wear. 
Experiment with different color combinations to personalize this simple yet stunning manicure for any occasion.
Mirror, Mirror: Metallic Nail Art for Short Nails
Image Credit: Pinterest
Transform your nails into a reflective masterpiece with these metallic mirrored nails, easily achievable in your favorite metallic shade. 
Whether using polish, gel, or powder, this look can be effortlessly recreated at home. 
Simply paint your natural nails, or follow tutorials for a flawless application if opting for powder. Let your nails shine in your preferred metallic hue.
Effortless Elegance: DIY Cuticle Polish
Image Credit: Pinterest
Achieve a polished look with this cuticle polish design that exudes simplicity and elegance. 
Perfect for at-home application, this manicure offers endless possibilities.
Switch up the colors for a fresh look each time, and coordinate the polish with your outfit to effortlessly tie your entire look together.