Do you want to know where to go in April? We have some fantastic destinations for you, whether you prefer beaches, the desert, or the green countryside.
In April, you can visit a lot of beautiful countries all over the world.
Traveling at this time of year can be a great experience. Although winter is finally coming to an end and spring is typically in full swing, many places are still in the low season. 
In most parts of the world, it isn't peak season, so you can usually get a good deal on tours and lodging.
In addition, there won't be as many people there as there were during the busy summer months. 
However, all of this depends on which of these locations piques your interest the most. Let's get going!
Iceland:
You probably didn't think Iceland would be the first place on this list, did you? One of the best places to go in April is likely Iceland.
This month, the days get longer, and the Icelanders are almost able to smell the fresh summer air. Even though the sun and warm weather are almost here, summer is still a month away.
Because it is the beginning of whale season, April is the best month to visit Iceland for whale watching, despite a few rainy days.
You can always take one of the many whale-watching tours that leave Reykjavik.
You have a great chance of getting close to the minke whale! Additionally, puffin season begins in April.
You might be able to find low-season rates on hotels, rental cars, and campervans because this is still the off-season in Iceland!
Greece: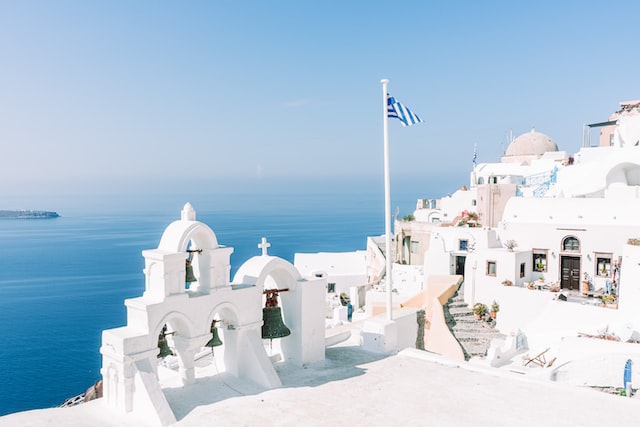 Greece experiences a noticeable rise in temperature in April, with a mostly sunny start and only a few scattered rainy days.
It's a magnificent season to go to Greece. You avoid the crowds of summer but miss the colder, wetter weather of winter. Athens's average temperature is 20°C, but it still drops to 10°C after dark.
It may be too cold to swim for a long time due to the sea's temperature of around 16°C. Nevertheless, you can still enjoy some tranquil sunbathing.
In some places, the sun sets around 8 p.m., so the days are long and beautiful. And if you're looking for more heat, head south, like Crete!
The only drawback of visiting the Greek islands in April is that many tourist-oriented businesses may not be open because summer has not yet begun.
The benefit? The islands will be yours alone!
Cyprus:
Cyprus and the rest of the Mediterranean have similar months in April. The average temperature suddenly rises to around 17°C, but on really nice days, it can easily reach the low 20s.
This is a wonderful time of year to visit Cyprus because there is a lot of sunshine and it is still not too hot.
Although there will be some isolated rain throughout the country in April, the weather will generally be pleasant and the beaches will be empty.
Except for around Easter, when the Easter break for schools brings a lot of European tourists to places like Ayia Napa.
Even so, it pales in comparison to Cyprus' summertime beaches, which are ideal for quiet beach time.
South Africa: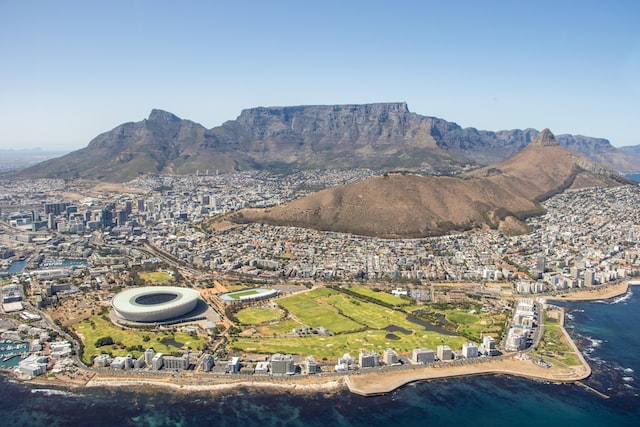 South Africa is in the Southern Hemisphere, so fall is just around the corner in April. Even though fall isn't here yet, it's a great time to be there.
After an otherwise scorching summer, the entire nation is beginning to cool down. However, fall here will not be like fall in your home country.
In Cape Town, South Africa, the average temperature is 18°C, which is warm enough to enjoy any romantic activity.
However, on occasion, the average temperature drops to 12°C in the evening. For this time, bring layers, especially if you go on a safari.
You will need a warm down jacket for the night when you enter the desert areas on safari.
The oceans are still sensibly warm, so riding around the Western Cape is a pleasant choice and quite possibly the best thing to do on the South African coast.
Sightseeing and birdwatching are at their best during this time of year; This time of year is particularly beautiful in the KwaZulu-Natal Midlands.
Japan:
The "main" start of cherry blossom viewing season for hanami in Japan is in early April.
To celebrate the warmer weather, people will begin laying out their blue tarpaulins from Hiroshima to Tokyo under the pink, blooming trees, arranging themselves with friends and plenty of snacks (and drinks).
Additionally, the drier weather of winter comes to an end in April. It starts to rain more and get cloudier, but hiking to beautiful Japanese waterfalls this time of year is much more enjoyable than in the cold.
It is recommended to wear rain gear, such as a packable rain jacket. Or, do as the Japanese do and keep an umbrella nearby!
On the other hand, it gets warm enough to open Okinawa's beaches. If you like beaches that aren't crowded, this might be a good time to go to Okinawa, especially in late April.
Jordan: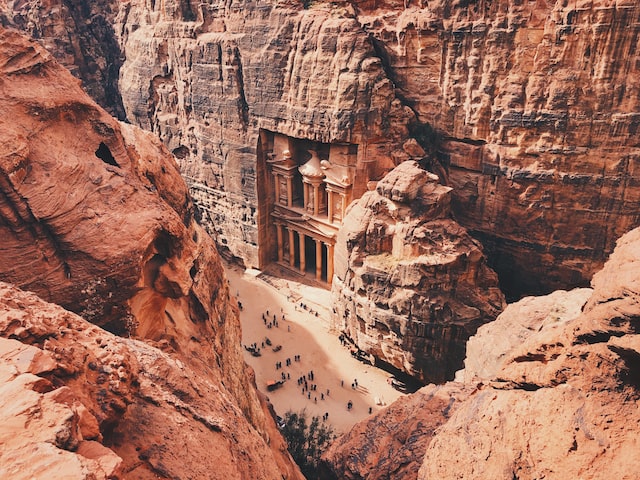 Jordan's spring officially begins in April, when numerous wildflowers fill the desert.
Jordan is at its best during this time of year; Even the nights are no longer that chilly, and the temperatures aren't too high.
Because it is the "perfect" time of year to visit in terms of the weather, it is also popular with tourists, and sights begin to get busy.
Jordan, on the other hand, is a great place to visit in April if you don't mind crowds.
Petra and Amman are both comfortable at 22°C; By this time, the Dead Sea and Aqaba have reached temperatures of 30°C.
Walking in Wadi Rum in the middle of the day without sweating your buns is the best thing ever!
Peru:
Peru should be on your list of places to visit in April in South America!The coastal areas and deserts of Peru experience yet another dry and sunny month in April.
Temperatures range from 18°C to 24°C in Lima. In the country, it's shoulder season, so things should be cheaper and less crowded.
In the Andes, in places like Lake Titicaca and Cusco, the rainy season starts to lessen.
There's a high of around 19°C, and there's still a considerable amount of overcast cover, yet the normal landscape is lovely here.
High temperatures in the Amazon Rainforest remain high and humid, reaching 31°C; downpour happens in the early evening either in deluges or hard and fast tempests.
Overall, the time to visit Peruvian landmarks like Machu Picchu is excellent!
Turkey:
Turkey is at its best in April. The nation experiences the onset of spring, and the temperatures begin to reflect that.
The national average temperature is 15°C during the day and 8°C at night.
As April comes to a close and summer approaches, the sun sets earlier and earlier each day.
In popular destinations like Istanbul and Cappadocia, crowds are low because summer is still a few months away.
At this time of year, coastal areas, particularly the south, are ideal for warmer weather.
In April, the average temperature in Marmaris and Antalya is 21°C, and the sea temperature is manageable at 18°C if you want to swim.
Rain is still falling, and the weather can change quickly, especially in mountainous and inland regions. The bright side is that it is tulip season in Turkey!
To Wrap Up:
You've come to the right place if you're looking for vacation destinations in April. 
The magical month of April transforms numerous popular tourist destinations into fantastic vacation spots.
We assume that you have already selected one suitable location from the list. Which location will you choose for your April vacation?
Look forward to an unforgettable vacation by making plans to visit these favorite international locations.