Imagine a place where ancient ruins whisper tales of a bygone era, where pristine beaches beckon with their turquoise waters, and where hidden cenotes unveil a world untouched by time.
Welcome to Tulum, a mesmerizing coastal town nestled on Mexico's Yucatan Peninsula, where history, natural beauty, and modern allure converge to create an irresistible destination for travelers.    
Embarking on a journey to Tulum is like stepping into a dream, a realm where the past seamlessly blends with the present, captivating your senses and leaving you yearning for more.
Whether you seek a cultural immersion, a tropical escape, or a spiritual awakening, Tulum offers an abundance of experiences that will ignite your wanderlust and unlock the extraordinary.  
Join us as we delve into the wonders that await those who choose to travel to Tulum, a place where every step unveils something truly remarkable.
Is Mexico Safe For Solo Travel?
Mexico, like any other travel destination, requires careful consideration for solo travelers.
However, by taking necessary precautions, solo backpacking in Tulum can be a safe and enjoyable experience. 
Start by researching the current safety situation and travel advisories from reputable sources such as the U.S. Department of State or your country's foreign affairs department.
Familiarize yourself with local customs, traditions, and social norms to respect the local culture. 
It is also essential to stay vigilant, particularly in crowded areas, and keep your personal belongings secure.
Engaging in open communication with locals can help you gather valuable insights and ensure a safer travel experience.
Getting To Tulum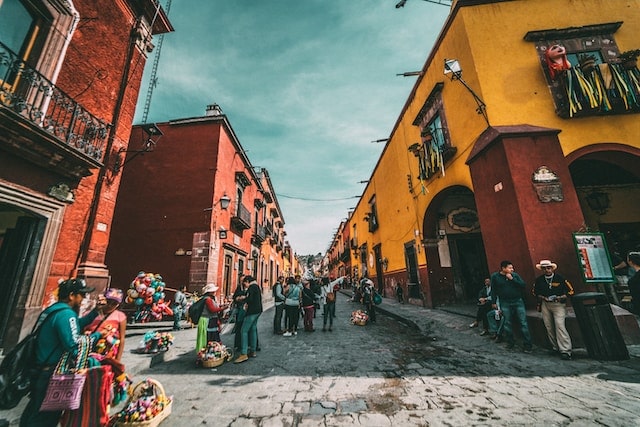 Explore Flight Options:

Start by researching flight options to Cancun International Airport (CUN), as it is the closest airport to Tulum. Use reputable travel websites or search engines to find the best deals on flights. Consider factors such as airlines, layovers, and travel dates to get the most convenient and cost-effective option.

Arriving at Cancun International Airport:

Upon landing at Cancun International Airport, proceed through immigration and customs. Ensure that you have all the necessary travel documents, including a valid passport, any required visas, and tourist cards. It's a good idea to make copies of these documents and store them separately from the originals for safekeeping.

Ground Transportation Options:

Tulum is approximately 75 miles (120 kilometers) south of Cancun International Airport. Several transportation options are available to get from the airport to Tulum:

Shared Shuttles:

Consider booking a shared shuttle service in advance. These shuttles typically operate between the airport and Tulum, making stops at various hotels and accommodations. Shared shuttles offer convenience and affordability, especially if you're traveling alone.

Private Transfers: I

f you prefer a more personalized experience, you can arrange a private transfer service. Private transfers provide a direct journey from the airport to your chosen destination in Tulum. You can book these services online or through travel agencies.

Rental Cars:

If you're comfortable driving in a foreign country, renting a car can give you flexibility and independence during your stay in Tulum. Several car rental companies have counters at Cancun International Airport. Compare prices and book a rental car in advance to secure the best rates.

Public Buses:

Another option is to take a public bus from the airport to Tulum. ADO, the main bus company in the region, operates regular bus services between Cancun and Tulum. Buses are comfortable, air-conditioned, and reasonably priced. Look for the ADO bus terminal within the airport or ask airport staff for directions.

Taxi and Ridesharing:

Taxis and ridesharing services are available at Cancun International Airport. Official airport taxis have fixed rates based on zones, and the prices are prominently displayed at the taxi stands. Make sure to agree on the fare before getting into the taxi. Ridesharing services like Uber and Didi are also operational in the region, providing an alternative transportation option.

Travel Documents:

Before traveling to Tulum, ensure that you have the necessary travel documents. This includes a valid passport with an expiration date at least six months beyond your planned stay, any required visas or permits (depending on your nationality), and a tourist card. The tourist card, also known as the FMM (Forma Migratoria Múltiple), is usually provided on the plane or at the airport upon arrival. Fill it out accurately and keep it with your passport throughout your trip.
Tulum Neighborhoods: Where To Stay In Tulum
When choosing where to stay in Tulum, consider your preferences, budget, and the type of experience you seek.
Each neighborhood offers its own charm and advantages. 
If you prioritize beach access and luxury, the Tulum Hotel Zone or the Beach Road may be ideal.
For a more budget-friendly and local experience, Tulum Pueblo is a great option. And if you prefer a quieter and residential environment, Aldea Zama is worth considering. 
Whichever neighborhood you choose, Tulum's unique blend of stunning beaches, rich culture, and natural wonders will ensure a memorable solo backpacking adventure.
Tulum Hotel Zone:
The Tulum Hotel Zone stretches along the coastline and is known for its pristine beaches and luxurious resorts.
This area offers a wide range of accommodations, from eco-friendly boutique hotels to high-end resorts.
Staying in the Tulum Hotel Zone provides easy access to the beach, where you can relax, swim, and enjoy water activities. 
It is also home to many beach clubs, restaurants, and bars, offering a vibrant and lively atmosphere. This area is perfect for solo travelers seeking a luxurious and beach-centric experience.
Tulum Pueblo:
Located inland, Tulum Pueblo is the town center of Tulum.
This area offers a more budget-friendly experience, with a variety of hostels, guesthouses, and local restaurants.
Staying in Tulum Pueblo provides an opportunity to immerse yourself in the local culture and interact with residents. 
The main street, Avenida Tulum, is lined with shops, markets, and eateries, where you can sample authentic Mexican cuisine and browse local handicrafts.
Tulum Pueblo is also conveniently located near the Tulum ruins, making it an ideal choice for history enthusiasts.
Aldea Zama:
Aldea Zama is an up-and-coming neighborhood situated between the Tulum Hotel Zone and Tulum Pueblo.
This area offers a mix of vacation rentals, modern condos, and residential developments. 
Aldea Zama provides a quieter and more residential experience compared to the bustling hotel zone.
It is surrounded by lush greenery, bike paths, and pedestrian-friendly streets, making it an excellent choice for those who prefer a tranquil and nature-oriented stay. 
While Aldea Zama does not have direct beach access, it is within a short distance from the coastline.
Beach Road:
The Beach Road, also known as Boca Paila, is a scenic stretch that connects the Tulum ruins to the Tulum Hotel Zone. 
Along this road, you will find various boutique hotels, eco-resorts, and beachfront accommodations.
Staying on the Beach Road offers a unique experience, as you can enjoy breathtaking views of the Caribbean Sea and have easy access to secluded beaches. 
The Beach Road is perfect for travelers seeking a blend of tranquility and natural beauty.
Best Things To Do In Tulum
Immerse yourself in the unique blend of nature, history, and vibrant energy that Tulum has to offer during your solo backpacking adventure.
Explore the Tulum Ruins:
Visit the ancient Mayan ruins of Tulum, perched on a cliff overlooking the Caribbean Sea.
Explore the well-preserved structures, learn about Mayan history and culture, and enjoy panoramic views of the coastline.
Relax at Tulum's Beaches:
Spend a day unwinding on Tulum's stunning beaches. The white sand, crystal-clear waters, and swaying palm trees create a tropical paradise.
Whether you choose Playa Paraíso, Playa Ruinas, or one of the quieter beaches further down the coast, it's an opportunity to soak up the sun and take refreshing dips in the sea.
Swim in Cenotes:
Discover the natural wonders of cenotes, unique sinkholes filled with freshwater.
Take a refreshing swim or snorkel in the cool, turquoise waters surrounded by lush jungle.
Some popular cenotes near Tulum include Gran Cenote, Dos Ojos, and Cenote Calavera.
Visit the Sian Ka'an Biosphere Reserve:
Explore the Sian Ka'an Biosphere Reserve, a UNESCO World Heritage Site.
Take a boat tour through the mangroves, observe diverse wildlife, and immerse yourself in the natural beauty of this protected area.
Try Watersports: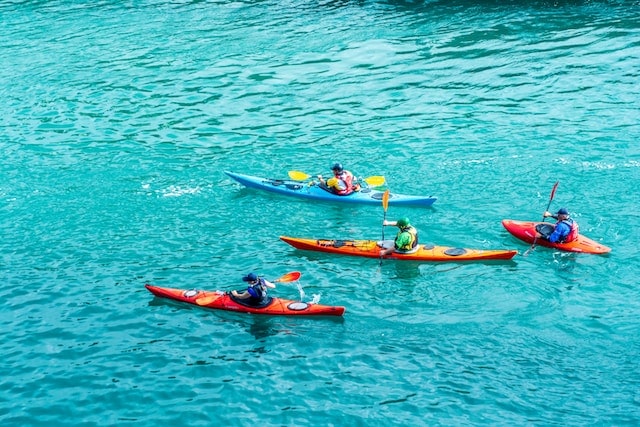 Tulum offers excellent opportunities for watersports enthusiasts.
Go snorkeling or diving in the vibrant coral reefs of the Mesoamerican Barrier Reef System, the second-largest barrier reef in the world.
You can also try paddle-boarding or kayaking in the calm waters of the Caribbean Sea.
Take a Yoga Class:
Tulum is known for its wellness and yoga scene. Join a yoga class or retreat in one of the many eco-friendly resorts or studios.
Engage in mindful practices, find inner peace, and connect with nature in this serene setting.
Explore Coba Ruins:
Venture beyond Tulum and visit the nearby Coba Ruins.
Rent a bicycle or hire a local guide to explore this ancient Mayan archaeological site, which features the tallest pyramid in the Yucatan Peninsula.
Climb to the top for panoramic views of the jungle.
Indulge in Local Cuisine:
Tulum boasts a vibrant food scene, with numerous restaurants and food stalls serving delicious Mexican and international cuisine.
Try traditional dishes like cochinita pibil (slow-roasted pork) or ceviche made with fresh local seafood. Don't forget to sample the famous Yucatan-style tacos.
Experience a Temazcal Ceremony:
Engage in a traditional Mayan temazcal ceremony, a steam bath ritual known for its purifying and healing properties.
Led by a shaman, the ceremony involves entering a sweat lodge and experiencing spiritual cleansing through heat, herbs, and chants.
Enjoy Tulum's Nightlife:
Tulum comes alive after the sun sets, offering a vibrant nightlife scene.
Dance the night away at beachfront bars and clubs, enjoy live music performances, or simply relax with a cocktail and enjoy the lively atmosphere.
Tulum Restaurants: Where To Eat In Tulum
Tulum is a haven for food lovers, offering a vibrant culinary scene with a mix of local Mexican flavors, international cuisine, and innovative dining concepts.
Here are some of the top restaurants and food experiences in Tulum:
Hartwood:
Hartwood is a renowned restaurant that focuses on locally sourced ingredients and sustainable practices.
The menu changes daily, featuring dishes cooked over an open fire and influenced by Mexican and international flavors.
Expect a unique dining experience in a rustic and charming setting.
Arca:
Arca is known for its farm-to-table concept, showcasing seasonal ingredients in creative dishes.
The menu combines traditional Mexican flavors with contemporary techniques.
The intimate and stylish ambiance adds to the overall dining experience.
Taquería Honorio:
For an authentic taste of Mexican street food, head to Taquería Honorio.
This local gem is famous for its mouthwatering tacos al pastor, made with marinated pork cooked on a vertical spit.
The tacos are served with fresh toppings and homemade salsas.
Mezzanine:
Mezzanine offers a fusion of Thai and Mexican cuisine, resulting in unique and flavorful dishes.
Enjoy panoramic ocean views while savoring dishes like pad thai, green curry, and ceviche.
Don't miss the refreshing cocktails and the relaxing ambiance.
Gitano:
Gitano is a stylish restaurant and mezcal bar that combines a trendy atmosphere with delicious food.
The menu features contemporary Mexican cuisine, including grilled meats, fresh seafood, and flavorful vegetarian options.
After dinner, you can head to the mezcal bar for handcrafted cocktails.
Nü Tulum:
Nü Tulum is a vegan and vegetarian restaurant that impresses with its innovative plant-based dishes.
From colorful salads and veggie bowls to creative vegan interpretations of Mexican classics, Nü Tulum caters to health-conscious and eco-conscious diners.
Posada Margherita:
Posada Margherita offers an authentic taste of Italy in a beachfront setting.
Indulge in homemade pasta, wood-fired pizza, and fresh seafood dishes.
The laid-back ambiance and ocean views make it a perfect spot for a leisurely lunch or romantic dinner.
Antojitos La Chiapaneca:
For budget-friendly and authentic Mexican street food, visit Antojitos La Chiapaneca.
This casual eatery serves delicious and affordable dishes like quesadillas, empanadas, and sopes.
It's a great option for a quick and flavorful meal.
Raw Love:
Raw Love is a popular spot for healthy and nourishing food.
It specializes in raw, vegan, and gluten-free dishes, including smoothie bowls, salads, and raw desserts.
Enjoy the relaxed atmosphere and vibrant menu options that prioritize natural and organic ingredients.
El Camello Jr.:
If you're a seafood lover, El Camello Jr. is a must-visit.
This local seafood restaurant serves fresh ceviche, grilled fish, shrimp tacos, and other delicious seafood dishes.
It's a casual and bustling eatery where you can indulge in the flavors of the sea.
Tulum Travel Tips
Enhance your solo backpacking adventure in Tulum and make the most of your time in this captivating destination with these tips – 
Best Time to Visit:
The best time to visit Tulum is during the dry season, which runs from November to April.
This period offers pleasant temperatures and lower chances of rain. However, it's also the peak tourist season, so expect larger crowds and higher prices.
If you prefer a quieter experience, consider visiting in the shoulder seasons of May to June or September to October.
Sun Protection:
Tulum's sun can be intense, so it's essential to protect yourself.
Pack and apply sunscreen with a high SPF, wear a wide-brimmed hat, sunglasses, and lightweight, breathable clothing.
Don't forget to stay hydrated by drinking plenty of water throughout the day.
Mosquito Protection:
Tulum is located in a tropical region, so it's wise to take precautions against mosquitoes.
Use insect repellent with DEET or another effective ingredient, especially during dusk and dawn when mosquitoes are most active.
Consider wearing long sleeves and pants in the evenings and staying in accommodations with screens or air conditioning.
Currency and Cash:
The official currency in Tulum is the Mexican Peso (MXN).
While some establishments accept credit cards, it's advisable to carry some cash for smaller establishments, markets, and street vendors.
ATMs are widely available, but be cautious and use those located within banks or secure locations to minimize the risk of skimming devices.
Language:
The official language in Tulum is Spanish.
While English is spoken in many tourist areas, it's helpful to learn a few basic Spanish phrases or carry a translation app to facilitate communication, especially when venturing into more local areas.
Transportation:
Tulum is a relatively small town, and getting around is relatively easy.
Renting a bicycle is a popular and eco-friendly option, allowing you to explore the town, beach areas, and nearby attractions at your own pace.
Taxis are available for shorter distances, while colectivos (shared vans) and buses are affordable options for traveling to nearby destinations like Playa del Carmen or Coba.
Safety:
Tulum is generally considered a safe destination for travelers.
However, it's always advisable to take precautions and stay aware of your surroundings.
Keep your valuables secure, use reputable transportation services, and avoid walking alone late at night.
It's also recommended to follow any local guidelines or advisories regarding safety and security.
Respect for Local Culture:
Tulum has a rich cultural heritage, and it's important to respect local customs and traditions.
Be mindful of local dress codes when visiting religious sites or participating in cultural events.
It's also courteous to ask for permission before taking photos of locals or their properties.
Sustainable Tourism:
Tulum is known for its eco-friendly practices, so consider embracing sustainable tourism practices during your visit.
Opt for accommodations that prioritize sustainability, reduce your plastic waste by using reusable water bottles and bags, and be mindful of the fragile ecosystems when visiting cenotes and other natural attractions.
Explore Beyond Tulum:
While Tulum offers a wealth of attractions, consider exploring the surrounding areas as well.
Visit the nearby Coba ruins, explore the Sian Ka'an Biosphere Reserve, or take a day trip to the stunning beaches of the Riviera Maya.
There's much to discover beyond Tulum's borders.
Conclusion 
In conclusion, solo backpacking in Tulum offers an exhilarating adventure filled with stunning natural beauty, rich history, and unforgettable culinary experiences.
From exploring the ancient Mayan ruins perched on the cliffs to relaxing on the pristine beaches, Tulum has something to offer every traveler.
Getting to Tulum is relatively easy, with various transportation options available.
Whether you choose to stay in the luxurious Tulum Hotel Zone, immerse yourself in the local culture of Tulum Pueblo, or seek tranquility in Aldea Zama, there are accommodations to suit every preference.
Once in Tulum, the list of things to do is endless. Discover the magic of the Tulum Ruins and the breathtaking views they offer.
Dive into the turquoise waters of cenotes, explore the Sian Ka'an Biosphere Reserve, and indulge in thrilling water sports along the picturesque coastline.
Unwind with a yoga class, experience a traditional temazcal ceremony, or simply relax on the stunning beaches while enjoying the vibrant nightlife.
Tulum's culinary scene is a feast for the senses. From upscale restaurants like Hartwood and Arca to local gems like Taquería Honorio and Antojitos La Chiapaneca, the diverse flavors and culinary experiences will satisfy any food lover.
Don't miss the opportunity to sample the fresh seafood, traditional Mexican dishes, and innovative fusion cuisine that Tulum has to offer.
Frequently Asked Questions 
Is Tulum good for solo travelers?
Tulum is a perfect destination for solo travelers, offering a vibrant and welcoming atmosphere that makes it easy to connect with others.
With its diverse range of accommodations and plenty of opportunities for adventure and cultural exploration, solo travelers will find a safe and fulfilling experience in Tulum.
What is unique about Tulum?
Tulum's uniqueness lies in its breathtaking blend of ancient Mayan ruins perched on a cliff by the Caribbean Sea, pristine beaches with soft white sand and crystal-clear waters, and enchanting cenotes that offer a surreal swimming experience.
Its bohemian vibe adds an extra touch of charm, making Tulum a truly one-of-a-kind destination.
What should I know before traveling alone?
Before traveling alone, it's essential to research and familiarize yourself with Tulum's local customs, safety precautions, and transportation options.
It's advisable to stay in well-reviewed accommodations and be mindful of your surroundings.
Embrace a sense of adventure, keep an open mind, and be prepared to meet fellow solo travelers and locals who can enhance your experience in Tulum.