It's that time of the year when we bid normal makeup adieu and say hello to a wild, wonderful world of festive glam. 
We're diving headfirst into the realm of jingle bells, tinsel, and all things merry, ready to unleash our inner makeup maestros. 
So, grab your glitter, dust off that bold lipstick, and join the celebration—because we've got some seriously silly, fabulously festive makeup ideas that are about to sleigh your beauty game this season! 
1. Glitter, Glitter, Everywhere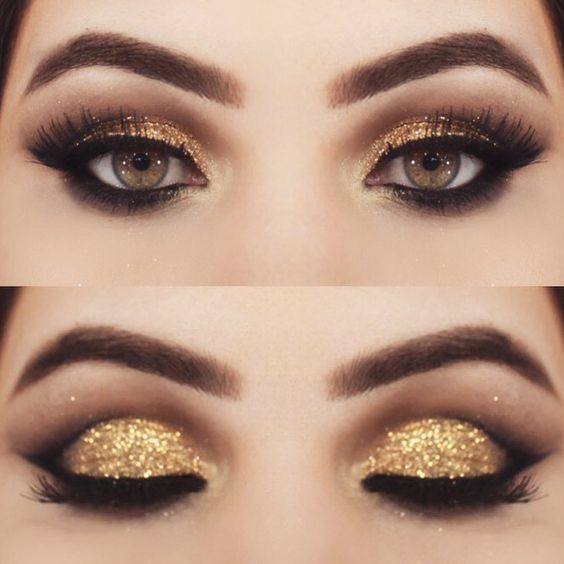 Image Credit: Pinterest
'Tis the season to shine, and nothing says festive like a generous dusting of glitter. 
Whether you opt for subtle shimmer on the lids or go all out with a dazzling glitter beard (yes, you read that right), let your face be a canvas for all things sparkly.
Pro tip: Use a setting spray to lock in that glittery goodness and keep the twinkle alive all night long.
2. Bold Lips for Mistletoe Moments
Image Credit: Pinterest
Kiss goodbye to the ordinary and say hello to statement lips that are ready for mistletoe moments. 
Experiment with rich reds, velvety purples, or even emerald greens. 
Not only does a bold lip scream confidence, but it's also a surefire way to turn heads at any festive gathering.
After all, 'tis the season to pucker up and spread the joy!
3. Whimsical Eyeliner Magic
Image Credit: Pinterest
Step aside, basic black eyeliner. It's time to let your eyes tell a festive tale of their own. 
Try your hand at whimsical eyeliner shapes—think candy canes, snowflakes, or even tiny Christmas trees. 
Whether you're a pro with a liquid liner or just starting out with a pencil, these playful designs are a delightful way to showcase your holiday spirit.
4. Merry Metallics
Image Credit: Pinterest
Ditch the matte for a moment and embrace the allure of metallics. Gold, silver, copper—take your pick and let your eyelids shine. 
A sweep of metallic eyeshadow adds an instant touch of glamor, making you the star of the holiday soirée. 
Plus, it pairs perfectly with the twinkling lights of the season.
5. Ugly Sweater-Inspired Eyeshadow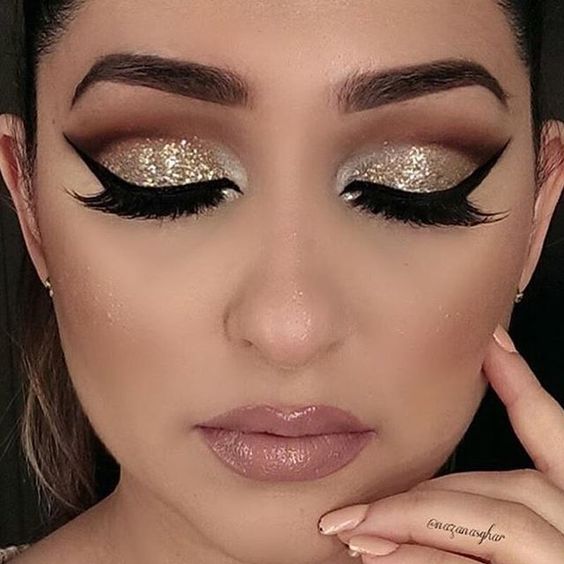 Image Credit: Pinterest
Why limit the festive fun to your clothing? 
Channel the spirit of ugly sweater parties with eyeshadow that mimics the cozy chaos of those infamous knitted masterpieces. 
Go for a mix of bold colors, quirky patterns, and maybe even a hint of shimmer.
The result? A playful nod to the season's most beloved fashion faux pas.
6. Santa's Little Helpers: Festive Lashes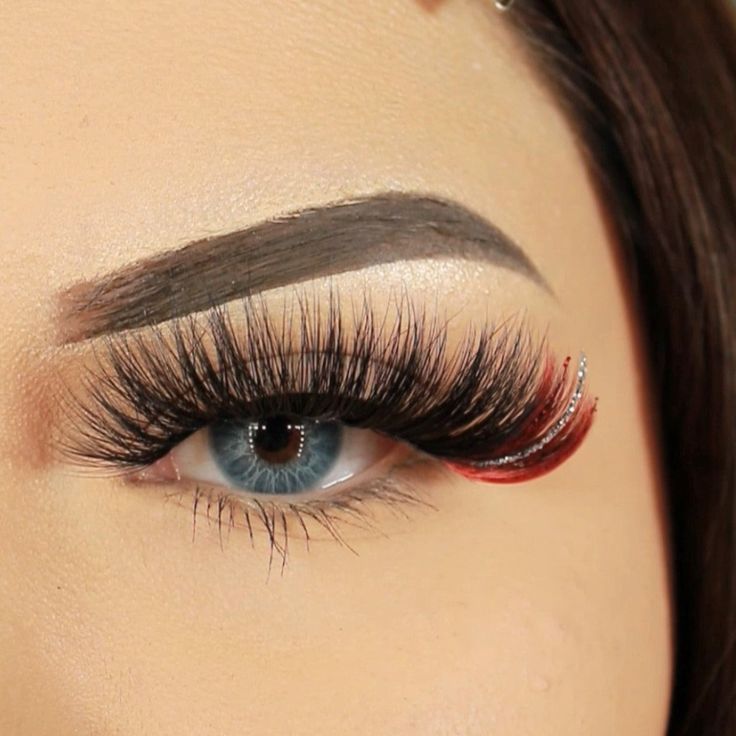 Image Credit: Pinterest
If Santa has his elves, you can have your own little helpers too—festive lashes!
Think lashes adorned with tiny ornaments, tinsel, or even a touch of faux snow. 
Not only do they add a whimsical touch to your look, but they're also a guaranteed conversation starter at any holiday gathering.
7. Frosty the Highlighter
Image Credit: Pinterest
Bring a touch of winter wonder to your makeup routine with a frosty highlighter.
Think icy whites and silvery shades that give your cheeks a luminous, snow-kissed glow. 
Whether you're sipping cocoa by the fire or dancing under the stars, this highlighter will make you the radiant belle of the ball.
8. Candy Cane Stripes:
Image Credit: Pinterest
Transform your lips into a sweet treat with candy cane-inspired stripes. 
Use red and white lipsticks to create alternating stripes for a playful and deliciously festive look.
9. Holiday Stamps:
Image Credit: Pinterest
Invest in festive stamps or stencils to imprint holiday symbols like snowflakes, holly, or even miniature Santas onto your cheeks or temples. 
It's a quirky way to showcase your love for the season.
10. Nutcracker Eyes:
Image Credit: Pinterest
Draw inspiration from the classic Nutcracker ballet with eyeshadow colors reminiscent of the characters. 
Think rich burgundies, royal blues, and shimmering gold to capture the enchantment of the holiday tale.
11. Gingerbread Glow:
Image Credit: Pinterest
Infuse warmth into your makeup with gingerbread-inspired tones. 
Opt for eyeshadows and lip colors in cinnamon, ginger, and warm brown hues to evoke the cozy essence of freshly baked gingerbread cookies.
12. Festive Freckles: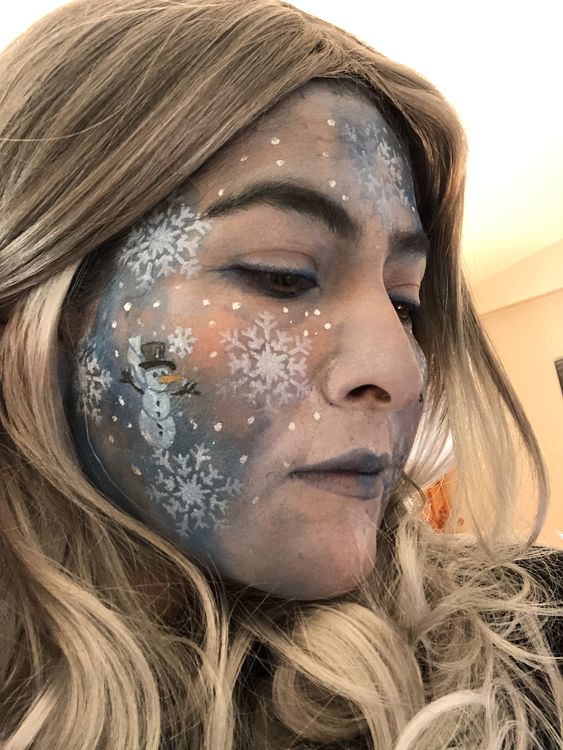 Image Credit: Pinterest
Embrace a youthful and whimsical look by adding faux freckles to your makeup routine. 
Use a brown pencil to dot freckles across your nose and cheeks, and then add a tiny star or snowflake stamp for a holiday twist.
13. Ornamental Nails:
Image Credit: Pinterest
Extend the festive vibes to your nails by adorning them with miniature ornaments, snowflakes, or even a string of tiny lights. 
It's a subtle yet charming way to tie your entire holiday look together.
14. Winter Wonderland Brows:
Image Credit: Pinterest
Give your brows a wintry makeover by using a white or silver brow gel to create a snow-dusted effect. 
Add tiny rhinestones or glitter for an extra touch of sparkle that glistens like freshly fallen snow.
Remember, the key to festive makeup is to have fun and let your creativity shine.
Whether you're going for a bold, statement look or a subtle touch of holiday magic, these ideas are sure to keep you in the spirit of the season.
Happy glamming!