What does Thanksgiving and the Holiday Season signify to you? 
Beyond the cherished family moments filled with laughter and a feast of delectable dishes, Thanksgiving presents a golden opportunity to pause, think, and express gratitude for life's countless blessings.
Moreover, it's the perfect occasion to craft some festive makeup looks, proudly flaunting them at the dinner table and immortalizing the memories in family photos. 
Of course, we all know that skipping that part is simply not an option. 
In the midst of the ongoing pandemic, many of us have experienced numerous makeup-free days in comfy sweatpants, making this Thanksgiving an ideal moment to embrace glamor once more.
Explore these makeup ideas inspired by Thanksgiving menu favorites and pick the perfect look to complement your celebration.
Thanksgiving Makeup Idea #1 – Cranberry Sauce
Image Credit: Pinterest
The allure of cranberry color is simply enchanting, and it effortlessly adds a festive touch to your look. 
Dive into the vibrant world of Red Apple Lipstick's best shades to achieve that perfect cranberry lip for this year's Thanksgiving celebration.
Risque:

A warm-toned red that radiates brightness and beauty. It can be worn boldly with more than one coat and boasts orange undertones, making it ideal for those with warm or neutral undertones. Say goodbye to a red that turns pink – this one's for you.

Red Apple:

A solid classic signature apple red lipstick with a glamorous, bright red hue and a soft pink undertone. Its creamy, moisturizing formula allows you to wear it bold for an attention-grabbing red lip or apply it softer for a subtle pinky-red stain.

Reddish Fetish:

Immerse yourself in a rich, deep pinky-red with a subtle hint of brown undertones. 
This neutral red, leaning slightly cooler than its warmer counterpart, Barcelona, offers a captivating shade devoid of any shimmer or frost. 
Enjoy the sophistication of a smooth, matte finish that effortlessly complements various looks.
Rebel!:

Savor the richness of a deep, luscious blue-based red that looks slightly darker than the iconic Red. 
This shade, known as Rebel!, is devoid of shimmer but radiates with an intense shine, adding a bold and captivating allure to your look.
The beauty of these lipsticks lies in their mix-and-match capabilities, seamlessly blending to create your perfect, unique shade. 
Enjoy the freedom to personalize your cranberry-inspired look with these captivating hues.
Thanksgiving Makeup Idea #2 – Golden Pie Crust
Image Credit: Pinterest
For eyes that shimmer like a golden pie crust, embrace warm and neutral beige eyeshadows from Red Apple Lipstick's exquisite collection. 
Begin with shades like Heirloom, but keep it as the base, and then elevate your look with –  
Lucky Penny

Golden Ticket, or

Bronze Bombshell on the outer corner. 
These eyeshadows not only enhance the beauty of your eyes but also complement any eye color – the golden makeup magic that works wonders for all.
Thanksgiving Makeup Idea #3 – Red Wine
Image Credit: Pinterest
Bold lips are the epitome of chic, and achieving this look is delightfully simple. 
All you need is a lipstick, a lip pencil, and optionally, a concealer for refining lip shape. Embark on an autumnal adventure with accented lips that exude seasonal vibes.
For a daring touch, explore some of Red Apple Lipstick's darker shades:
Fierce:

Consider a red shade lipstick, but make sure it has elegant purple and some brownish undertones. Apply lightly for a stunning reddish maroon lip stain or build up for a more intense and bold lip look.

Wine & Dandy:

A fabulous choice for a Thanksgiving makeup look, especially if you prefer a subtle wine stain. 
Apply with our lip brush, blot, and revel in a beautiful and light berry stain. 
Compared to Fierce, Wine & Dandy has less brown and more purple, offering versatility and a great option for various skin tones.
Thanksgiving Makeup Idea #4 – Cocktails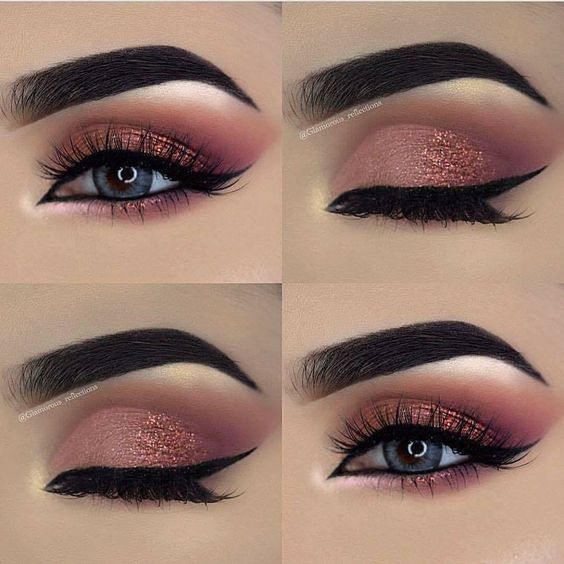 Image Credit: Pinterest
Thanksgiving wouldn't be complete without delicious, warming cocktails, and this year, let that inspiration guide your captivating eye look. 
Imagine the rich hues of a cognac sparkler or a bourbon spice pear cocktail translated into a stunning makeup ensemble.
To achieve this look, turn to Red Apple Lipstick's She's Spicy, a matte eyeshadow reminiscent of cognac, and Earth Girl, a beautiful matte shade with a caramel touch. 
Infuse a golden sheen with Bronze Bombshell, creating a perfect trio of autumn-perfect shades that capture the essence of the season.
Finish off your festive fall look with a warm or neutral lipstick. For a glossy touch, Magic Moment or the nude pink allure of Oh My Guava are excellent choices. 
If you're drawn to warmer undertones, embrace Chai Love You – a sophisticated nude lipstick with a captivating reddish-brown undertone. 
These classy colors are the perfect complement for a Thanksgiving evening celebration.
Thanksgiving Makeup Idea #5 – Chocolate Mousse
Image Credit: Pinterest
Why not indulge in smokey eyes for Thanksgiving?
It's the perfect strategy, especially if you plan to savor every delightful dish without worrying about constant lip gloss or lipstick touch-ups.
For this look, dive into matte neutral browns like Brownie Points and Tip Taupe. 
Achieve a clean, defined look by adding a light eyeshadow on your brow bone. 
Choose Porcelain for an all-matte finish or Sand Castle for a touch of subtle gold shimmer. Top it off with a Cocoa eyeliner for the perfect finishing touch.
Thanksgiving Makeup Idea #6 – Green Bean Casserole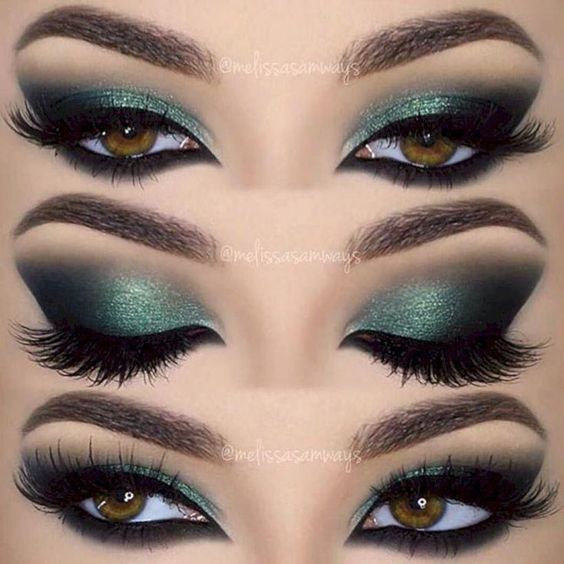 Image Credit: Pinterest
For a touch of originality and sophistication on Thanksgiving night, embrace the charm of green eye makeup inspired by the classic Green Bean Casserole.
Opt for a deep, dark green eyeshadow like Olive This Color for an effortlessly chic 'one and done' look. 
Apply it generously over your lid and blend it softly into your crease for a beautifully fading effect.
You can either mix it with the darker shade for an all-over application or create a layered effect by starting with the lighter hue and intensifying the outer corner. 
Whichever style you choose, this festive look is sure to be a favorite.