Aesthetic rooms have taken social media by storm, captivating the hearts of Instagram and TikTok enthusiasts. 
Fueled by lockdowns, these rooms are characterized by greenery, muted colors, and captivating lighting. 
Personal expression plays a vital role in crafting the perfect aesthetic room, with elements like wallpapers, photo collages, and art prints taking center stage. 
If you're seeking inspiration to create your aesthetic haven, you're in the right place. 
Let's dive into the ten best aesthetic room ideas that will transform your bedroom into a cozy, modern sanctuary.
1. LED Strip Lights & Fairy String Lights:
Pinterest : Nory_
Combine ornamental plants with enchanting LED string lights to create a mesmerizing display above your bed. 
The soothing ambiance is perfect for unwinding. Consider the choice of string lights and LEDs as seen on @dreamyyroom's Instagram – the epitome of a cozy aesthetic room. 
Fairy bulbs, stars, butterflies, and strip lights can be used to infuse magic into your room. 
Whether adorning one wall or illuminating the entire space, these lights add sparkle, charm, and a personal touch to your bedroom.
2. Ambient Lighting:
Pinterest : HEWGE
Aesthetic rooms embrace two main lighting styles: monochrome for a serene ambiance and multicolored for dynamic effects. 
LED strips are often strategically placed around the perimeter, accentuating the room's aesthetics. 
You'll also find aesthetic rooms incorporating galaxy and nebula projectors for an otherworldly touch.
3. Decorative Vines (Faux or Natural):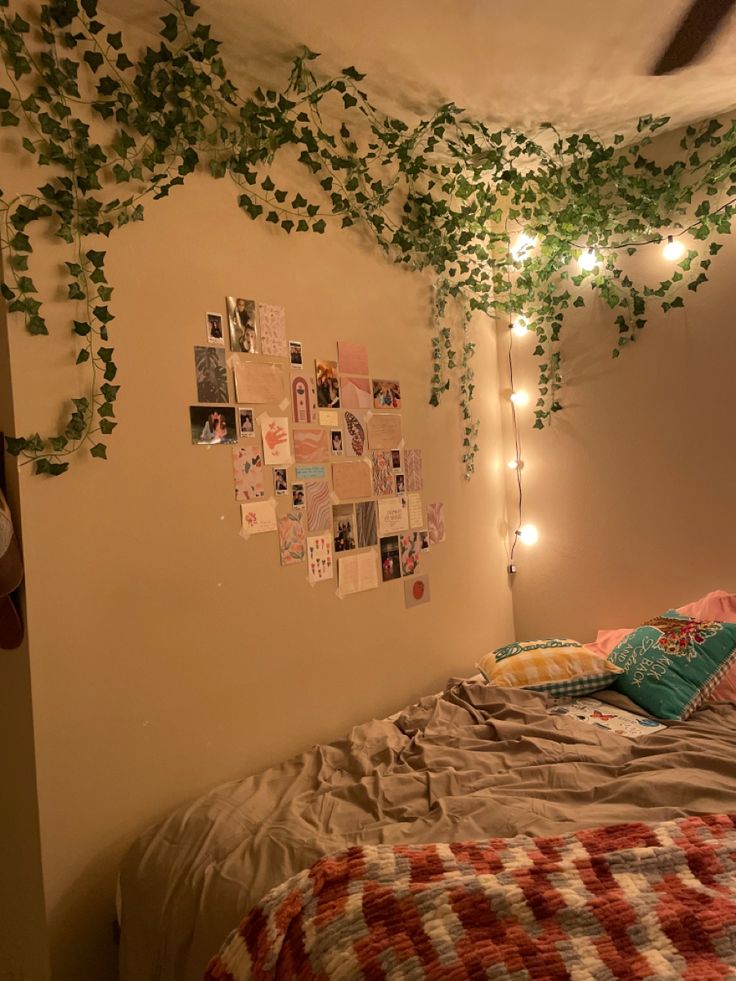 Pinterest : Ashlyn Elledge
Decorative vines are a staple in admired aesthetic rooms.
Typically positioned behind the bed and complemented with LED lights, faux vines create a fairy-like atmosphere. 
You can also arrange them around windows, the headboard, or mirrors.
These vines introduce texture and color, making a bold statement at an affordable cost.
4. Hanging Plants & Planters for a Refreshing Atmosphere:
Pinterest : Ana A.
Natural plants not only infuse a room with a natural vibe but also pleasant fragrances. Consider incorporating a variety of plants to create a layered, aromatic atmosphere. 
Eucalyptus is an excellent choice for a fresh and soothing scent. Experiment with different materials for planters to introduce texture and color. 
Don't hesitate to mix and match sizes, styles, shapes, and colors to express your personality. 
Transform your space into a lush, jungle-like aesthetic with floor-to-ceiling indoor plants, adding bold colors, organic shapes, and unique textures.
5. Mixed Textures and Patterns:
Pinterest : IDEA DESIGN
The best aesthetic rooms are characterized by a rich mix of textures and patterns, elevating the space to new heights of visual appeal. 
Consider blending feathered pillows with eclectic light fixtures and classic quilted bedding.
This approach recognizes that at least 50% of your room's aesthetic charm stems from the central piece—the bed—and its surrounding contrast. 
Incorporate natural materials like jute, rattan, wicker, and leather if it aligns with your style.
Add pom-pom blankets, chunky knit throws, and dried pampas grass for added dimension and softness.
6. Eclectic Record Gallery:
Pinterest : Apartment Therapy
Consider crafting a captivating wall of records in a charmingly mismatched pattern, giving the impression of a spontaneous assembly. 
Populate this unique wall with all your beloved albums, ensuring that your favorite music envelops you in your own space. 
The end result should resemble a cozy record shop, complete with a couple of shelves brimming with record labels positioned near your bed.
Building an eclectic gallery wall is an exceptional way to establish a distinctive atmosphere that stands out from the ordinary. 
You can incorporate vintage movie posters, postcards, or even a collection of earthy animal prints—your gallery should reflect what truly resonates with you, making it deeply personal.
7. Full-Length or Disco Mirror Aesthetic Room:
Pinterest
A full-length mirror not only adds to the aesthetics of your room but also serves as a practical accessory. 
You can position it opposite a window to allow more natural light to fill the room, creating a sense of spaciousness.
This mirror will imbue your space with an airy, natural ambiance. 
In cases where space is limited for a full-length mirror or oversized alternatives, opt for a disco ball mirror.
The objective here is to achieve the feel of an expansive bedroom while maintaining the carefully curated aesthetic design.
8. Thematic Aesthetic Room:
Pinterest : Nourished Natasha
Many stunning aesthetic rooms on social media platforms like Instagram and TikTok follow specific themes, such as Dark Academia, Light Academia, or Y2K. 
When crafting a thematic aesthetic room, you have the freedom to infuse the entire space with elements that resonate with your chosen theme. 
Depending on the theme, you can incorporate LED lights, unique lamps, hanging vines, decorative pendants, tapestries, suspended shelves, macrame flowers, or even a digital clock with vibrant neon accents for an E-Girl aesthetic. 
For more minimalist aesthetic rooms inspired by "Art Hoe" or "Soft Room" themes, consider using wire wall organizers, framed posters, wall mirrors, and a palette of neutral bedding. 
The possibilities are endless when creating your thematic aesthetic room.
9. Cottagecore Aesthetic Room: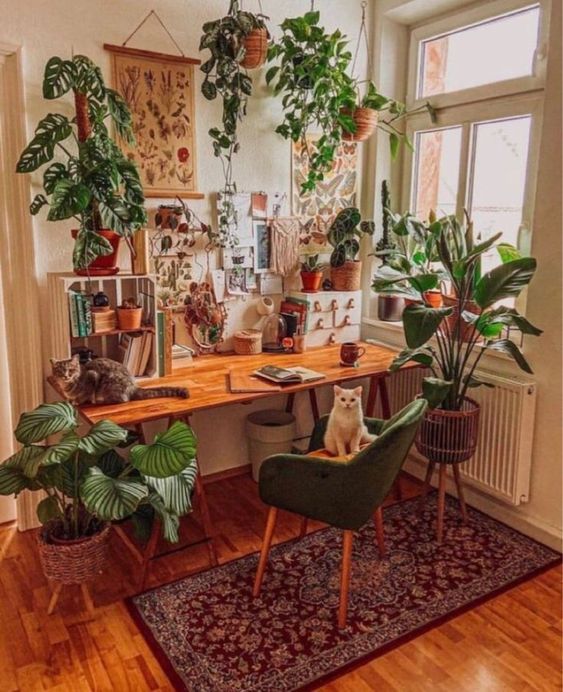 Pinterest : roomtery
Crafting the perfect cottagecore room involves selecting the right thematic bedding and wall decor.
Opt for floral and botanical motifs, earthy green and natural sheet colors adorned with mushroom and wildflower prints. 
Enhance the aesthetic with artificial vines, wooden shelves, and macrame plant hangers. 
This aesthetic thrives in rooms with wooden beams, where it pairs wonderfully with vintage-style magnifying lamps, beige throw pillows, and art pieces adorning the walls.
10. Indie Aesthetic Room: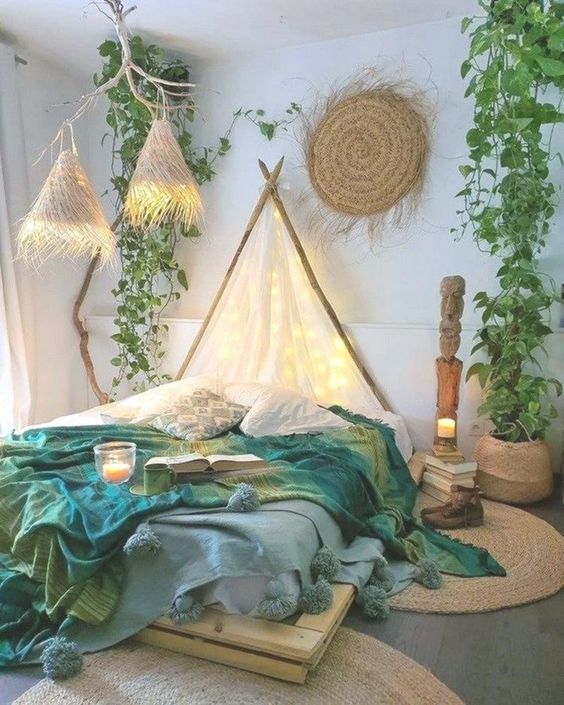 Pinterest : sophiexconway
For an Indie Aesthetic Room, immerse yourself in the vibrant and oversaturated colors of the indie music subculture. 
Online, you'll find popular collections featuring vivid posters, eye-catching tapestries, unique bedding sets, and an array of related wall decor. 
Embrace the eclectic spirit of indie culture to infuse your space with a distinctive and energetic vibe.
11. Danish Pastel Aesthetic Room:
Pinterest : Carley's World
In a Danish Pastel Aesthetic Room, soft pastel colors take center stage.
Incorporate candle holders with whimsical, bent, and swirly candles, seashell motifs, fluffy checkerboard rugs, DIY mirrors, and tile tables adorned with curvy accents. 
Achieving this style is more straightforward than it may initially appear.
Let the elegance of pastel hues and creative decor elements transform your space into a soothing and visually captivating retreat.
Conclusion:
Bringing together elements like aesthetic fairy string lights, cascading vines, neon signs, and cozy rug decorations might seem like a daunting task, but rest assured, it's more achievable than you think. 
The key is to approach your room design with creativity and individuality. Don't fret about going overboard with aesthetic decor; the beauty of this style lies in its versatility.