The holiday season is upon us, and along with the aroma of freshly baked cookies and the twinkling lights, there's one more thing that's synonymous with this time of year – ugly Christmas sweaters! 
Once relegated to the back of the closet, these festive fashion statements have made a roaring comeback. 
In fact, they're now a must-have item for any holiday gathering.
If you're on the lookout for the perfect ugly Christmas sweater that combines the right amount of charm and hilarity, you're in luck. 
We've rounded up a collection of creative, quirky, and downright delightful ugly Christmas sweater ideas for 2023 that will not only spread cheer but also have everyone talking at your holiday parties.
Here are 20 Ugly Christmas Sweater Ideas for 2023
Jolly Llama Wonderland Sweater:
This whimsical sweater features a llama adorned with a Santa hat and tangled in colorful string lights.
The backdrop showcases a snowy landscape with twinkling stars, capturing the essence of a winter wonderland in a hilarious and endearing way.
Snowflake Spectacle Sweater:
Embrace the beauty of winter with this sweater covered in oversized, intricately designed snowflakes.
The snowflakes are adorned with faux gemstones that catch the light, creating a dazzling effect reminiscent of a snowy evening.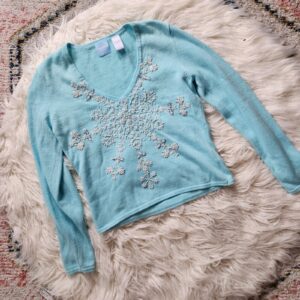 Frosty Friends Gathering Sweater:
Imagine snowmen, penguins, and reindeer all gathered around a campfire with marshmallows skewered on sticks.
This sweater depicts a heartwarming scene of winter creatures coming together for a cozy and adorable holiday gathering.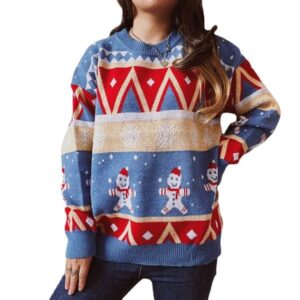 Nutcracker Nuttiness Sweater:
Bring a touch of the Nutcracker ballet to your wardrobe with this homemade ugly christmas sweater idea featuring nutcracker soldiers, ballerinas, and a whimsical portrayal of the Nutcracker story.
The vibrant colors and playful details make this sweater a festive work of art.
Polar Bear Party Sweater:
Transport yourself to the Arctic with a sweater that showcases polar bears celebrating in style.
Picture polar bears wearing winter accessories, dancing under the northern lights, and enjoying an ice cream cone or two.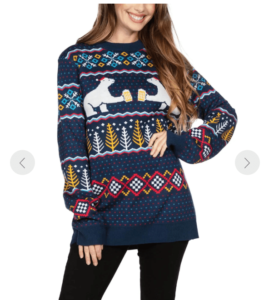 Festive Fair Isle Frenzy Sweater:
Capture the charm of traditional fair isle patterns with a twist.
This sweater combines various holiday motifs like gingerbread men, candy canes, and snowflakes in a cohesive and visually appealing design.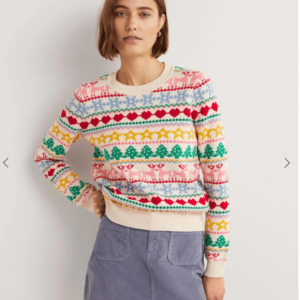 Ugly Sweater Stampede Sweater:
Create a comedic scene with a sweater filled with stampeding reindeer in a variety of poses.
From somersaulting to striking a pose, these reindeer are on a mission to spread holiday cheer in the most amusing way.
Whimsical Winter Vacation Sweater:
Take a vacation from the ordinary with a sweater that features penguins sunbathing on beach towels, snowmen sipping hot cocoa, and reindeer surfing on candy canes.
This sweater transports you to a whimsical winter holiday paradise and is a perfect ugly Christmas sweater idea for couples.
Penguin Party Palooza Sweater:
Penguins take center stage in this sweater, engaging in a festive party complete with disco lights, dance moves, and a DJ penguin spinning the tunes.
It's a lively and hilarious depiction of a penguin celebration.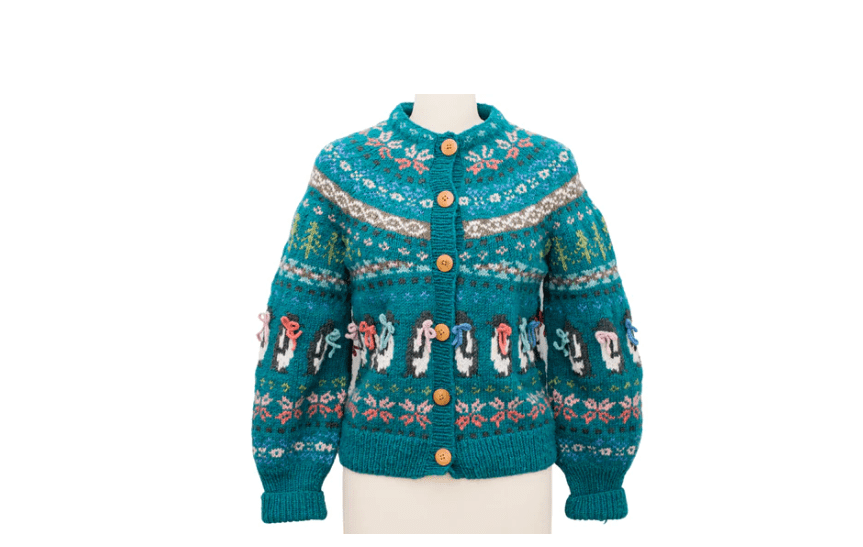 Snowman Symphony Sweater:
Capture the essence of a winter concert with snowmen playing musical instruments.
From snowman saxophonists to snowman drummers, this sweater creates a whimsical orchestra of winter characters.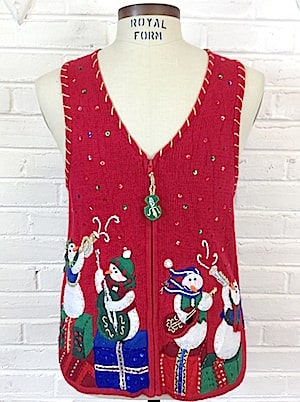 Santa's Workshop Whimsy Sweater:
Imagine Santa's workshop bustling with elves working on toys, surrounded by candy canes and presents.
This sweater provides a delightful peek into the magic that happens in Santa's workshop, complete with intricate details.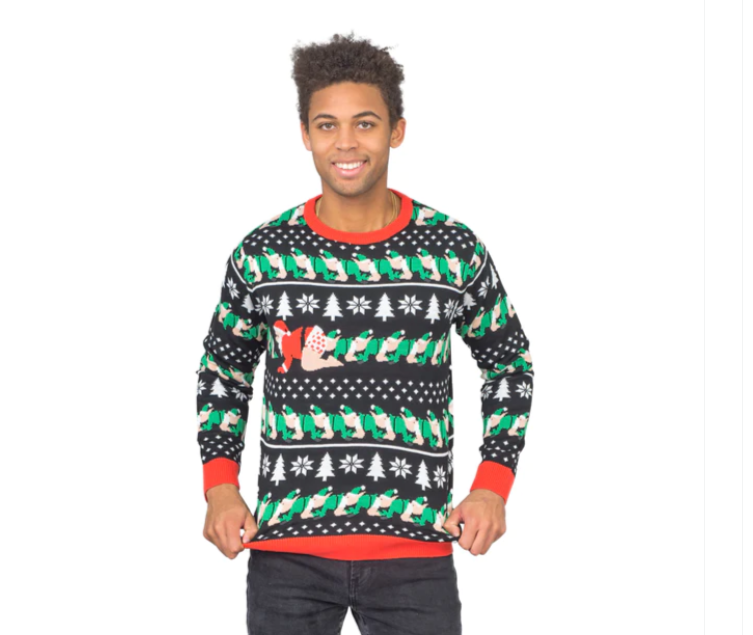 Gingerbread Giggles Sweater:
Gingerbread men and women with quirky expressions adorn this sweater, each telling a story through their playful poses.
From breakdancing gingerbread men to yoga-posing gingerbread women, it's a charming and hilarious ensemble.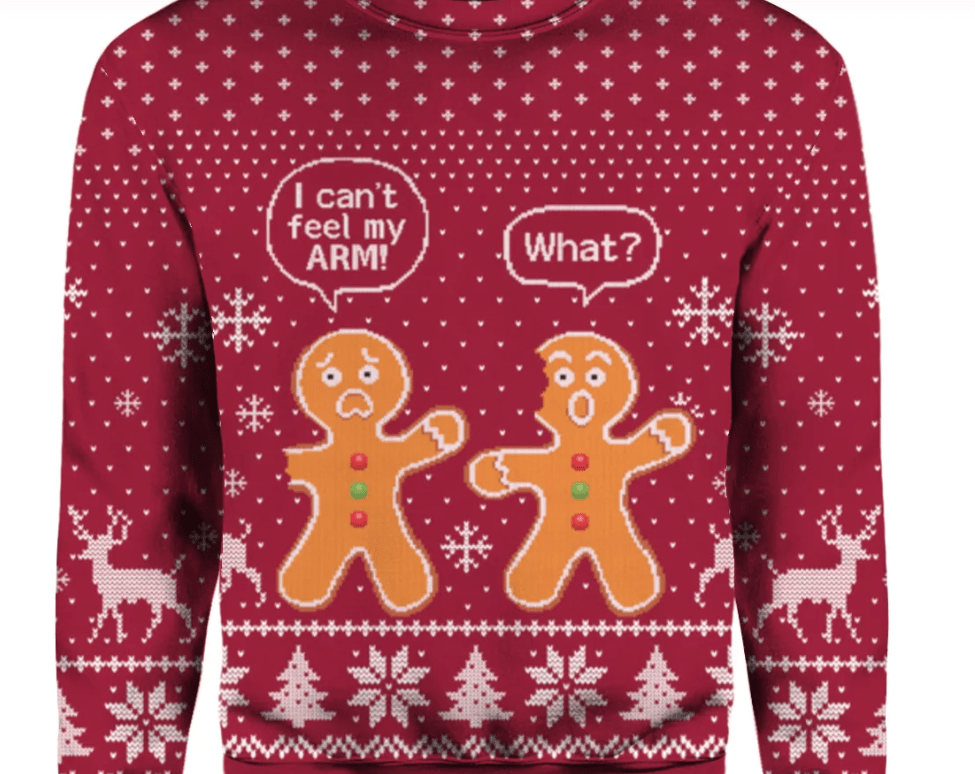 Christmas Tree Chaos Sweater:
Create a merry mess with a sweater that showcases a Christmas tree tangled in lights, ornaments, and even a playful kitten or two.
This sweater captures the chaos that often comes with decorating the perfect tree.
Holiday Movie Marathon Sweater:
Embrace the nostalgia of holiday movies with a sweater featuring iconic scenes from classics like "A Christmas Story," "Home Alone," and "Elf."
It's a tribute to beloved films that have become an integral part of the holiday season.
Whimsical Winter Wildlife Sweater:
From squirrels building snowmen to owls roasting marshmallows, this sweater brings a touch of woodland whimsy to your attire.
The intricate details and charming creatures create a sweater that's truly a work of art.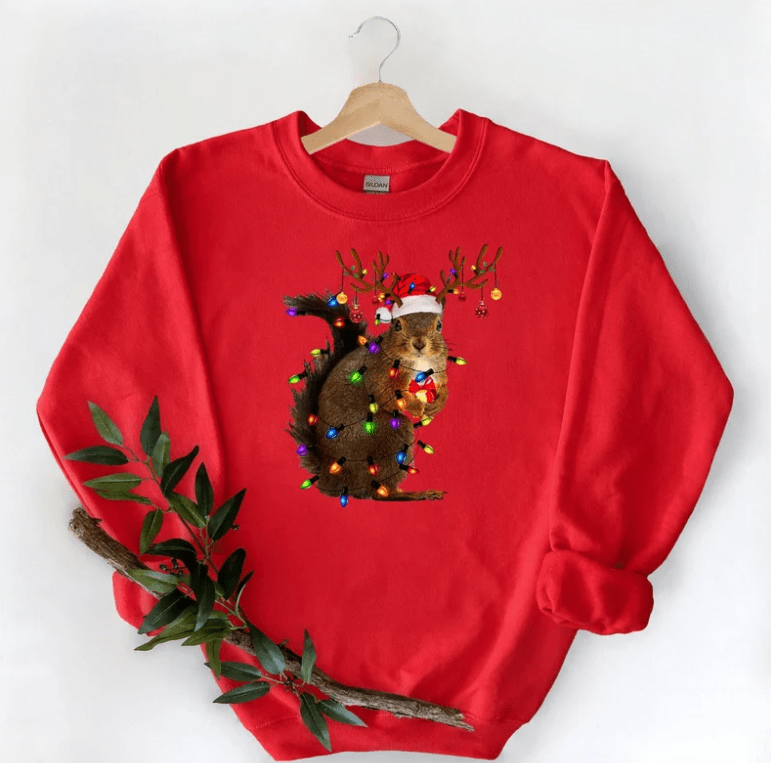 Reindeer Rodeo Sweater:
Imagine a rodeo arena filled with reindeer riders, cowboy hats, and lassos made of tinsel.
This sweater captures the excitement of a reindeer rodeo in a quirky and entertaining way.
Ugly Sweater Spectacular Sweater:
Why settle for one holiday motif when you can have them all?
This sweater features a mishmash of snowflakes, gingerbread men, reindeer, and more, creating a symphony of festive chaos.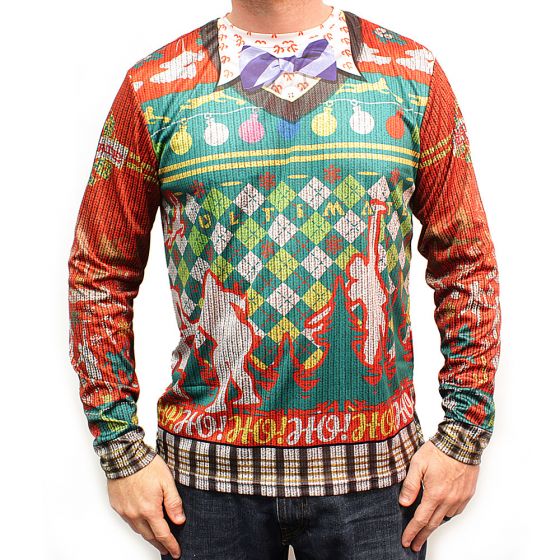 Cozy Cabin Celebration Sweater:
Picture a cabin in the woods adorned with twinkling lights, wreaths, and a festive fireplace.
This sweater captures the warmth and coziness of a cabin retreat during the holiday season.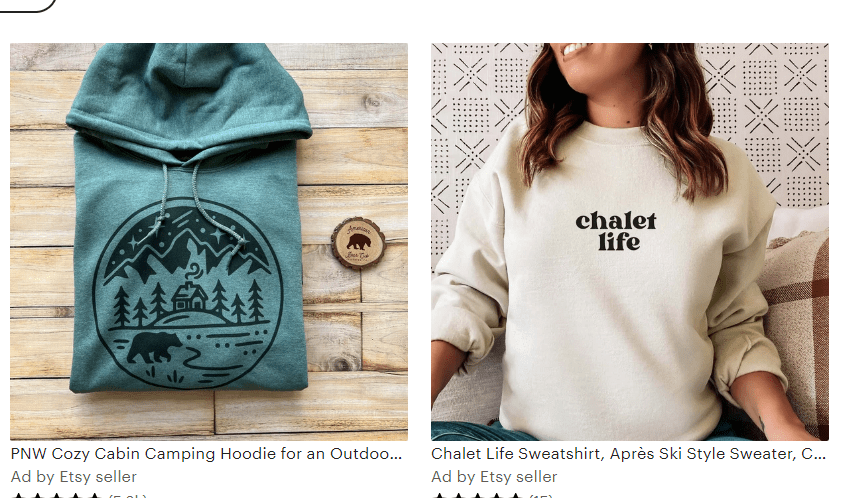 Winter Wildlife Whimsy Sweater:
From bunnies building snow forts to foxes making snow angels, this sweater depicts a whimsical world where woodland creatures embrace the magic of winter.
Santa's Cookie Caper Sweater:
Create a playful scene with Santa caught in the act of stealing cookies from a gingerbread house.
The gingerbread residents are depicted in humorous poses of surprise and indignation.
How to Style Christmas Sweater Ideas for Holiday Season?
Here's a guide on how to style an ugly Christmas sweater with creativity and flair:
Embrace the Ugly with Confidence
The first rule of styling an ugly Christmas sweater is to wear it with confidence.
These sweaters are meant to be quirky and playful, so own your festive fashion choice proudly.
Keep It Simple with Denim
Pair your ugly Christmas sweater with classic denim jeans.
Whether they're skinny, straight-legged, or distressed, denim provides a neutral backdrop that lets the sweater take center stage.
Add Sparkle with Accessories
Enhance your festive look with accessories that complement your sweater.
Opt for metallic or glittery accessories like statement earrings, a shimmering clutch, or metallic sneakers.
Layer with Flair
Experiment with layering to add depth to your outfit.
A collared shirt underneath your sweater can create a preppy and polished look, while a chambray shirt adds a touch of rustic charm.
Go Bold with Bottoms
For an unexpected twist, pair your sweater with bold bottoms.
Think metallic skirts, sequin leggings, or even a tulle skirt for a touch of whimsy.
Footwear Finesse
Choose footwear that aligns with the vibe you want to create.
Opt for ankle boots to add an edgy touch, or go for classic ballet flats for a more feminine look.
Festive Headgear
Consider adding a festive touch to your hairstyle with holiday-themed headbands or hair clips.
A Santa hat or reindeer antlers can take your outfit to the next level.
Mix Patterns for Eclectic Charm
If you're feeling adventurous, don't hesitate to mix patterns.
Pair your sweater with plaid pants or a polka-dot skirt for a quirky yet charming look.
Match with Friends or Family
Take the fun up a notch by coordinating your ugly Christmas sweater with friends or family.
This adds an element of unity and humor to your festive ensemble.
Layer with Cozy Outerwear
In colder climates, layer your sweater with a cozy outerwear piece like a faux fur vest or a chunky cardigan.
This not only keeps you warm but also adds depth to your outfit.
Create Balance with Accessories
Balance the kitschiness of your sweater with sophisticated accessories.
A sleek clutch, dainty jewelry, and elegant heels can provide a polished contrast.
Nail the Makeup Look
Complete your ensemble with a makeup look that complements your sweater.
Think rosy cheeks, glittery eyelids, and a festive red lip to tie the whole look together.
Stay True to Your Style
While it's fun to play with styling ideas, always stay true to your personal style.
Incorporate elements that resonate with you, whether that's vintage flair, bohemian vibes, or modern chic.
Ugly Sweater DIY Touches
If you're feeling crafty, consider adding your own DIY touches to your ugly Christmas sweater. Glue on extra ornaments, add bows, or even sew on extra fabric for a 3D effect.
Smile and Spread Joy
Ultimately, the key to styling an ugly Christmas sweater is to wear it with a smile and spread the joy of the holiday season.
Your positive attitude will make your ensemble shine even brighter.
Conclusion
Embracing the ugly Christmas sweater trend isn't just about fashion; it's about creating memories, sparking conversations, and spreading joy.
This holiday season, consider stepping outside the box and donning a sweater that's as unique as your sense of humor. 
Whether you opt for a classic reindeer riot, a nutcracker nightmare, or a punny penguin parade, your choice of sweater can set the tone for a festive and lighthearted celebration.
So, go ahead – embrace the joyfully tacky, the hilariously hideous, and the delightfully over-the-top.
After all, the holidays are a time for laughter, connection, and, of course, unforgettable fashion statements.