Traveling is an exciting opportunity to explore new destinations, experience different cultures, and create unforgettable memories.
For men, choosing the right travel outfits is essential to ensure comfort, versatility, and style throughout the journey.
Whether you're embarking on a business trip or planning a vacation getaway, dressing appropriately for travel can enhance your overall travel experience.  
Let's explore a variety of men's travel outfit ideas that strike the perfect balance between comfort and fashion, allowing you to navigate airports, endure long flights, and explore new destinations with confidence and ease.
From classic and timeless ensembles to casual and relaxed looks, these outfit ideas will help you stay comfortable, look sharp, and be prepared for any occasion that arises during your travels.  
So, let's dive into the world of men's travel fashion and discover the key pieces and styling tips that will make your journey both comfortable and stylish.
What To Wear For Traveling On A Plane?
Comfortable yet stylish pants:
When it comes to choosing pants for air travel, prioritize comfort without compromising on style.
Opt for stretchy jeans or chinos that provide freedom of movement and allow you to stay comfortable during long flights. 
Look for pants made from lightweight and breathable fabrics like cotton or a blend with some stretch for added comfort.
Avoid tight-fitting or restrictive trousers that may restrict blood circulation during long periods of sitting.
Versatile tops for layering:
Layering is key when traveling on a plane as temperatures can vary throughout the journey.
Start with a comfortable base layer such as a well-fitted t-shirt or a polo shirt. These tops offer breathability and easy movement. 
Layer it with a lightweight sweater or hoodie for added warmth during cooler periods of the flight.
Opt for materials like cotton or merino wool that are soft, breathable, and regulate temperature effectively.
Practical and slip-on shoes:
When it comes to footwear for air travel, practicality is key.
Choose comfortable shoes that are easy to slip on and off during security checks.
Loafers or slip-on sneakers are excellent choices as they provide both style and convenience. 
Look for shoes with cushioned insoles and breathable materials to ensure all-day comfort.
Avoid shoes with laces or intricate closures that can be time-consuming to take off and put back on.
Complete your travel outfit with essential accessories that add both style and functionality.
Start with a comfortable belt to ensure a secure fit for your pants.
Opt for a functional backpack or messenger bag to carry your essentials, including your travel documents, electronic devices, and personal items.
Consider a bag with multiple compartments for better organization. 
Additionally, wearing a stylish watch not only adds a touch of sophistication but also helps you keep track of time during your journey.
Don't forget to bring a pair of sunglasses to protect your eyes from the sun both during the flight and upon arrival.
What To Wear Once You Arrive At Your Destination?
After a long flight, it's essential to dress appropriately for your destination. Consider the following factors when choosing your outfit:
Climate and weather conditions:
Research the weather conditions at your destination to plan your outfit accordingly.
If it's hot and sunny, opt for lightweight and breathable clothing.
Choose shorts or lightweight pants paired with a short-sleeved shirt or a comfortable polo shirt.
If the weather is cooler, layer up with a lightweight jacket or a long-sleeved shirt.
Activities and dress codes:
Consider the activities you have planned and any specific dress codes you need to adhere to.
If you're heading straight to a business meeting, ensure you have a well-pressed suit or a tailored ensemble ready.
For casual outings or tourist activities, opt for comfortable yet stylish clothing that suits the occasion.
Local fashion and cultural norms:
Take into account the local fashion and cultural norms of your destination.
Dressing in a way that respects the local customs and traditions shows cultural sensitivity.
If you're unsure, aim for a clean and well-put-together look that leans towards smart casual.
Choose footwear that matches your planned activities and provides comfort for walking and exploring.
Sneakers, loafers, or comfortable sandals are versatile options for most casual or tourist activities.
If you're planning more formal events or dinners, pack a pair of dress shoes that complement your outfits.
Remember, personal style and comfort are key when choosing your travel outfits.
By selecting comfortable and stylish pieces, you can look sharp and feel confident both during your journey and upon arrival at your destination.
What Should A Guy Wear To A Beach Vacation?
When packing for a beach vacation, it's important to choose outfits that keep you comfortable in the warm weather while reflecting a laid-back and beach-appropriate style.
Here are some key clothing items and tips for your beach vacation outfits:
Start with the most essential item for a beach vacation: swimwear.
Opt for swim trunks or board shorts in vibrant colors, fun prints, or classic patterns.
Look for quick-drying and lightweight fabrics like nylon or polyester.
Consider the length and fit that you find most comfortable.
Don't forget to bring a few pairs to allow for drying time between beach visits.
Pair your swimwear with comfortable and breathable t-shirts or tank tops.
Choose lightweight fabrics such as cotton or linen to keep you cool in the heat.
Opt for colors that complement your swimwear or go for neutral tones like white or gray for versatile styling.
You can also opt for sleeveless tank tops to show off your beach-ready physique.
For beach activities and casual outings, pack a few pairs of lightweight shorts.
Look for styles made from breathable materials like cotton or linen.
Opt for shorts in bright colors, pastel hues, or tropical prints to embrace the beach vibe.
Consider styles with an elastic waistband or drawstring for added comfort and flexibility.
Breathable Shirts and Button-Downs:
For a more polished beach look, pack a few breathable shirts or button-downs.
Choose lightweight fabrics such as linen or cotton to keep you cool while maintaining a stylish appearance.
Opt for short-sleeved or roll-up sleeve shirts for a relaxed and casual feel.
Consider neutral colors or beach-inspired prints like floral or nautical patterns.
Choose footwear that is suitable for the beach environment.
Flip-flops or sandals are essential for easy sand-to-sea transitions.
Look for water-friendly options with good traction and comfortable soles.
If you plan on engaging in water sports or exploring rocky areas, consider packing water shoes to protect your feet.
For dressier beach occasions or evening outings, bring a pair of comfortable canvas or leather loafers.
Accessorize your beach vacation outfits with key items that provide both style and practicality.
Don't forget to bring a wide-brimmed hat to protect yourself from the sun.
Consider a straw hat or a lightweight fabric hat for a beachy look.
Sunglasses are a must to shield your eyes from the sun's glare.
Opt for UV-protective lenses and choose a style that suits your face shape.
Lastly, a beach tote or a waterproof bag is essential for carrying your beach essentials such as sunscreen, a beach towel, and a good book.
Travel Outfits for men to have in their wardrobe
Having a versatile and well-curated travel wardrobe is essential for any modern man.
Here are some key travel outfits that every man should consider having in their wardrobe:
Invest in a well-fitted suit that can be worn for both formal business trips and special occasions.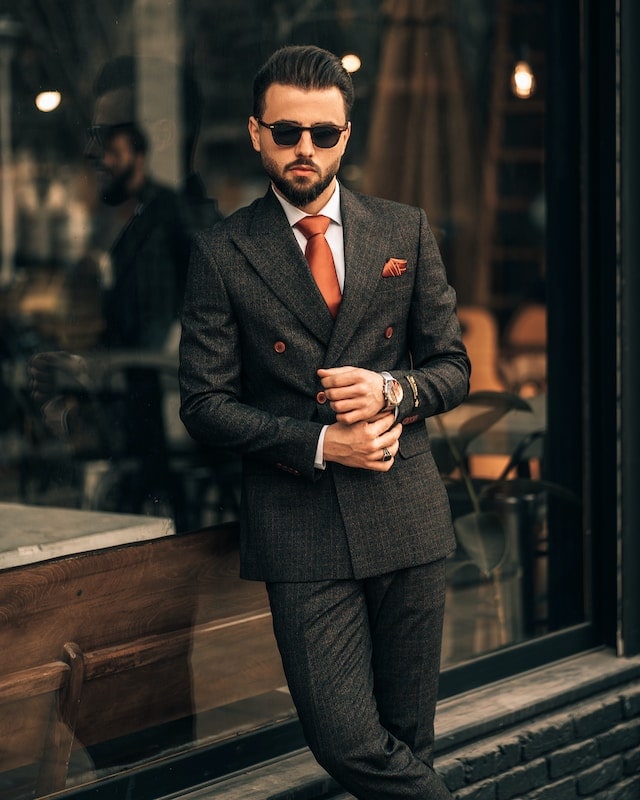 Choose a versatile color like navy or charcoal gray.
Look for wrinkle-resistant fabrics with a hint of stretch for comfort during long flights. 
Pair your suit with a crisp dress shirt, a coordinating tie, and a pair of polished dress shoes for a sharp and sophisticated look.
For a smart-casual travel outfit, combine tailored separates like chinos or dress pants with a button-down shirt or a polo shirt.
This versatile outfit can be dressed up or down depending on the occasion. 
Add a blazer or a lightweight cardigan for a more polished appearance.
Complete the look with loafers or brogues for a touch of elegance.
For long flights or casual outings, embrace the comfort and style of athleisure wear.
Opt for high-quality joggers or track pants made from stretchy and breathable fabrics. 
Pair them with a fitted t-shirt or a hoodie for a relaxed yet fashionable look.
Complete the outfit with comfortable sneakers or slip-on shoes.
Denim is a versatile and timeless staple that can be incorporated into various travel outfits.
Pack a well-fitting pair of jeans that can be dressed up with a button-down shirt and a blazer or dressed down with a casual t-shirt and sneakers. 
Look for jeans with a hint of stretch for comfort during long periods of sitting or walking.
For leisurely vacations, embrace a more relaxed and casual style. Pack shorts in various lengths, colors, and patterns for versatility.
Pair them with casual t-shirts or tank tops for a laid-back look. 
Don't forget to pack comfortable footwear like sandals or slip-on shoes for easy beach-to-street transitions.
Layering is key for travel outfits, especially when traveling to destinations with varying climates.
Pack lightweight cardigans, jackets, or pullovers that can be layered over shirts or under coats.
Choose versatile colors and fabrics that can easily be mixed and matched with other pieces in your wardrobe.
Conclusion:
Dressing appropriately for travel is essential to ensure comfort, style, and functionality.
Whether you're heading to the beach or planning a vacation, choosing the right outfits is crucial.
With a focus on swimwear, lightweight and breathable clothing, comfortable footwear, and essential accessories, you can create stylish and functional outfits for your beach vacation. 
Additionally, having a well-rounded travel wardrobe with classic suits, smart-casual ensembles, athleisure attire, denim pieces, and layered looks ensures you're prepared for any travel scenario.
By combining comfort and style, you can confidently navigate your travels while looking sharp and feeling your best.