When the holiday season arrives, it's not just the Christmas tree that deserves to be decked out in style. Treating yourself to a merry manicure is the perfect way to immerse yourself in the festive spirit. Christmas-themed nail colors give you the opportunity to accessorize for every holiday party, family gathering, or cookie exchange. Instead of sticking to the traditional red or deep green hues, why not celebrate this year with nails adorned in one of these creative Christmas nail ideas?
There are countless ways to elevate your favorite nail colors like cherry red, oxblood, and creamy ivory to a whole new level of holiday cheer, for those who love indulging in Hallmark movies, a classic shade sprinkled with holly, mistletoe, and wreaths feels just right. If you're more of a hot cocoa-sipping caroler, a plaid pattern will give your nails a cozy makeover. You can either challenge your own manicure skills by trying out these Christmas nail ideas yourself or bring these ideas as inspiration to your nail salon for a hassle-free experience.
Christmas nail ideas to brighten up your holiday season:
Cherry Red Plaid:
Show off this cozy plaid while picking out your Christmas tree.
Green Stars:
Opt for a deep hunter green instead of the usual dark red, and add some extra festivity with silver stars.
Holly Accents:
Bring the Christmas greenery to your nails for a delightful touch.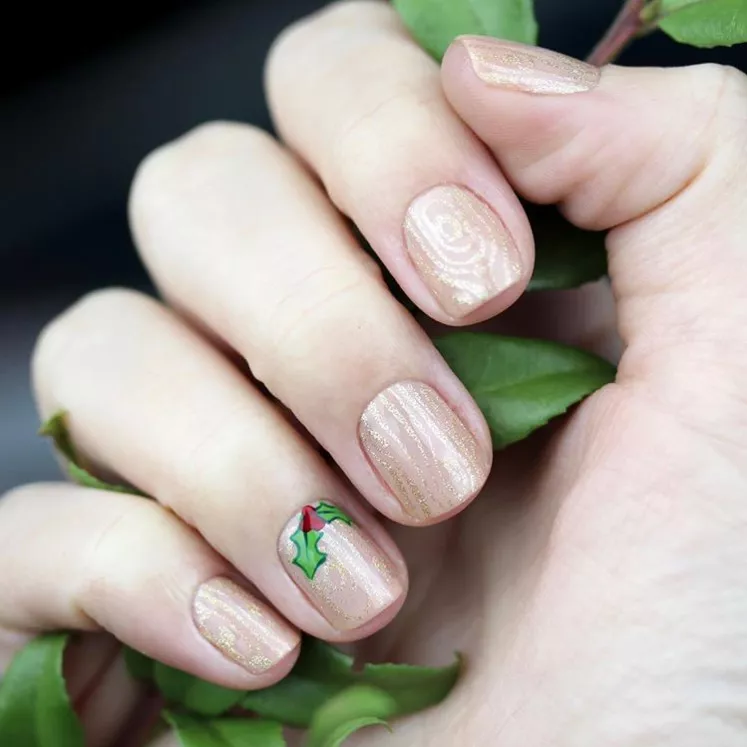 Cherry Snowflakes:
These Christmas nail ideas will stand out against your winter wardrobe, combining cherry red with delicate snowflakes for a magical look.
Foil Gold Tips
:
These French tips are as shiny as holiday present wrappings and full of metallic glamour.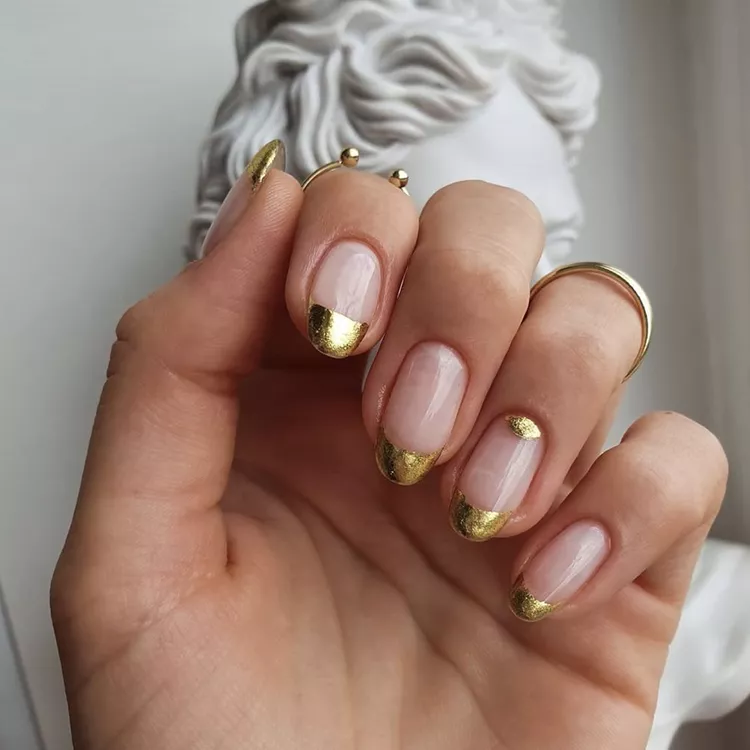 Tartan Touches:
Clutching a mug of hot cocoa or baking gingerbread cookies? These tartan nails will be the perfect accessory.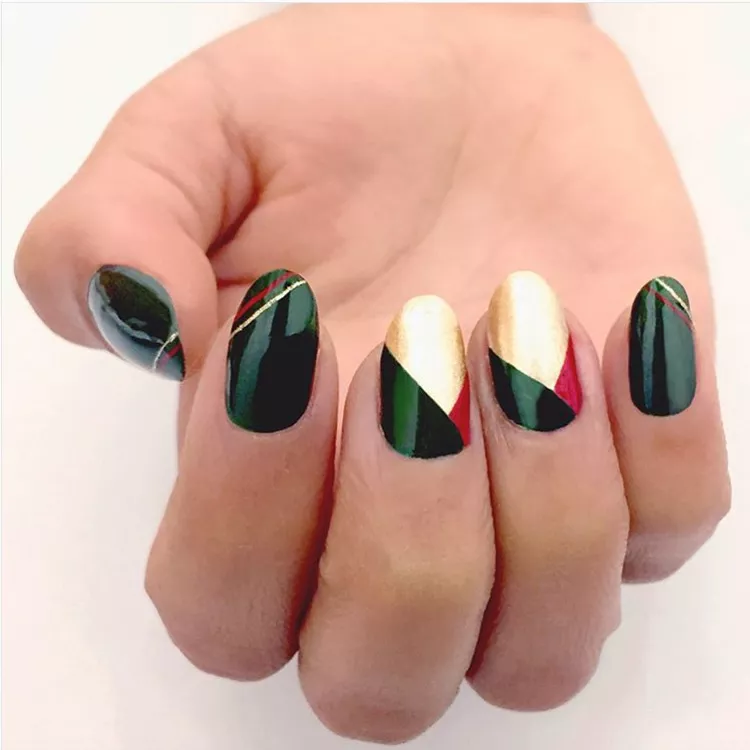 Pink Wreaths:
Give your holiday manicure a feminine twist with millennial pink shades and festive wreaths.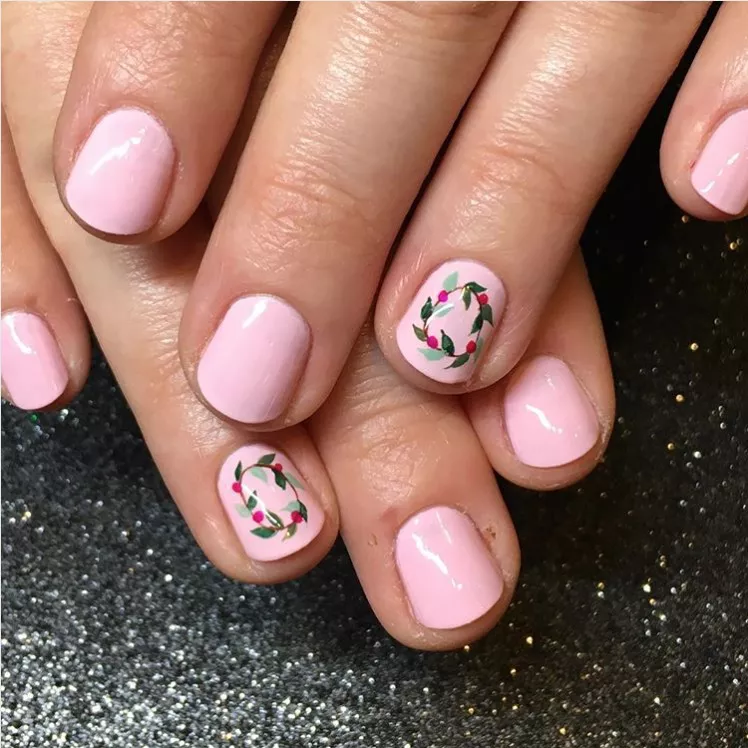 Frosted Snowflakes:
Create a magical winter look with pearlescent white polish and bold black snowflakes.
Christmas French Mani:
Reimagine the French manicure with fir green tips and sparkly red polish, These Christmas nail ideas are perfect for festive occasions.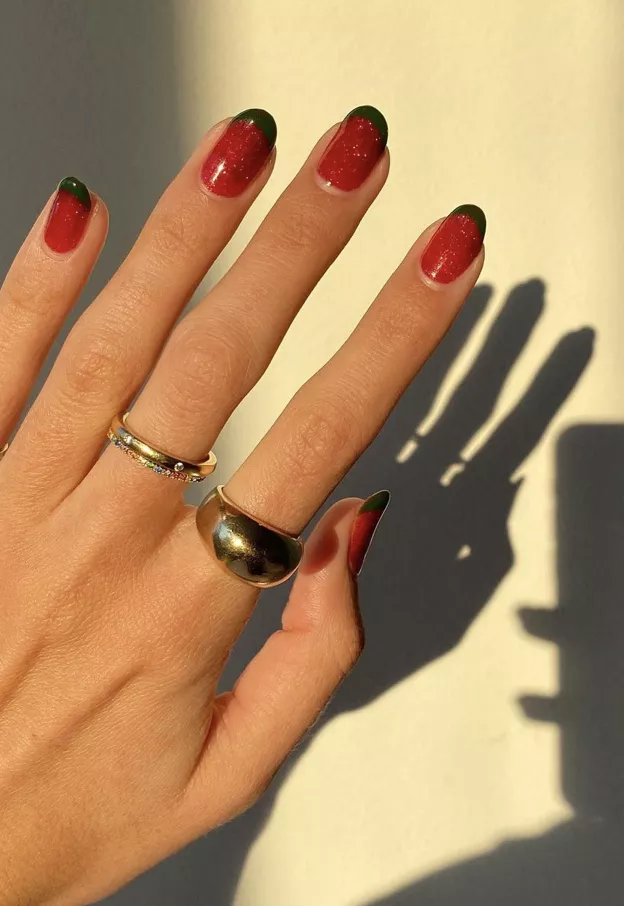 Holiday Half-Moon Wreaths:
These wreath-adorned nails are destined for holiday greatness, just like popcorn strings and poinsettias.
Cozy Stripes:
Match your comfy winter sweaters with mocha brown and champagne gold polish for a warm and inviting look.
Snow Globe Tips:
These nails will have you dreaming of a white Christmas with their snow globe-inspired Christmas nail ideas.
https://www.southernliving.com/thmb/2plEGYIpQLyBNbQJ0R-uA5POI4=/750×0/filters:no_upscale():max_bytes(150000):strip_icc():format(webp)/snowglobe-9937c0f671924aa89efe470d58cde4df.jpg
Christmas Tree Green:
Add a top layer of gold glitter to nails reminiscent of Frasier Fir.
Gift-Wrapped:
Tie your nails up with a pretty red bow for a festive gift-wrapping theme.
Candy-Striped:
If you love candy canes, these Christmas nail ideas with negative space and playful stripes is perfect.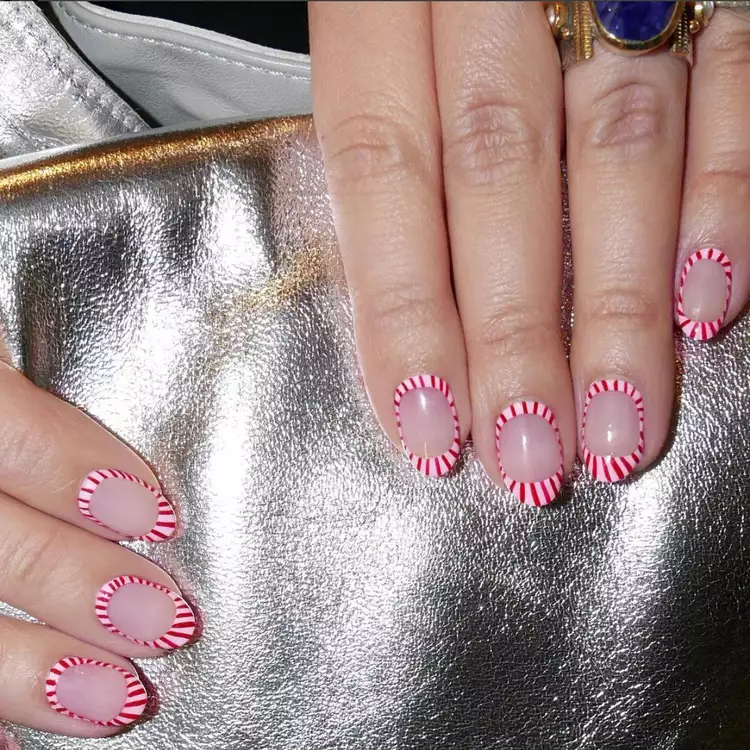 Merry Mashup:
Santa and Rudolph are at your fingertips with this fun design.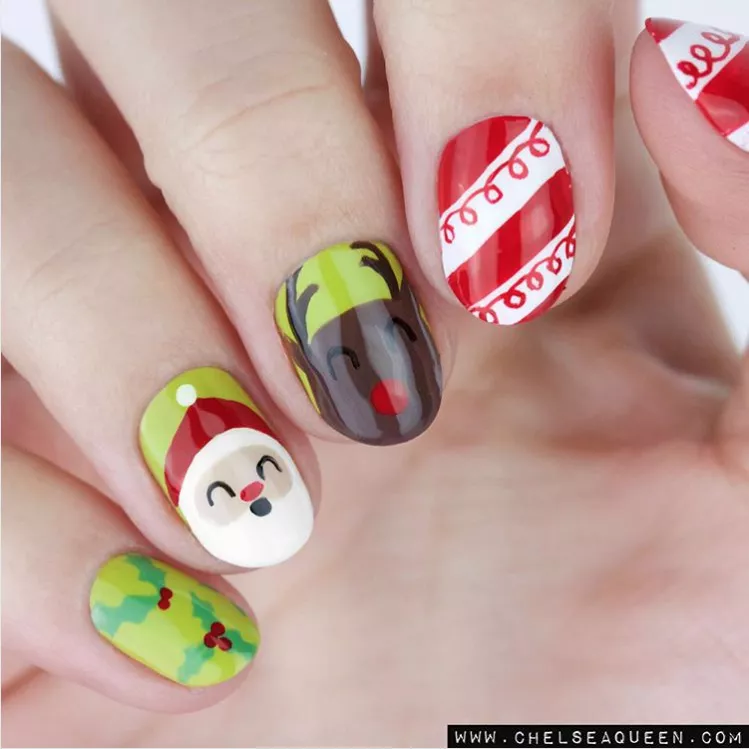 Holiday Half Moon:
This classic and fun half-moon design will make a statement at any holiday party.
Holiday Lights:
Twinkling lights are the essence of festivity, and these ultra-thin decals will fool everyone.
Candy Canes:
Kris Kringle would adore these candy cane-adorned nails.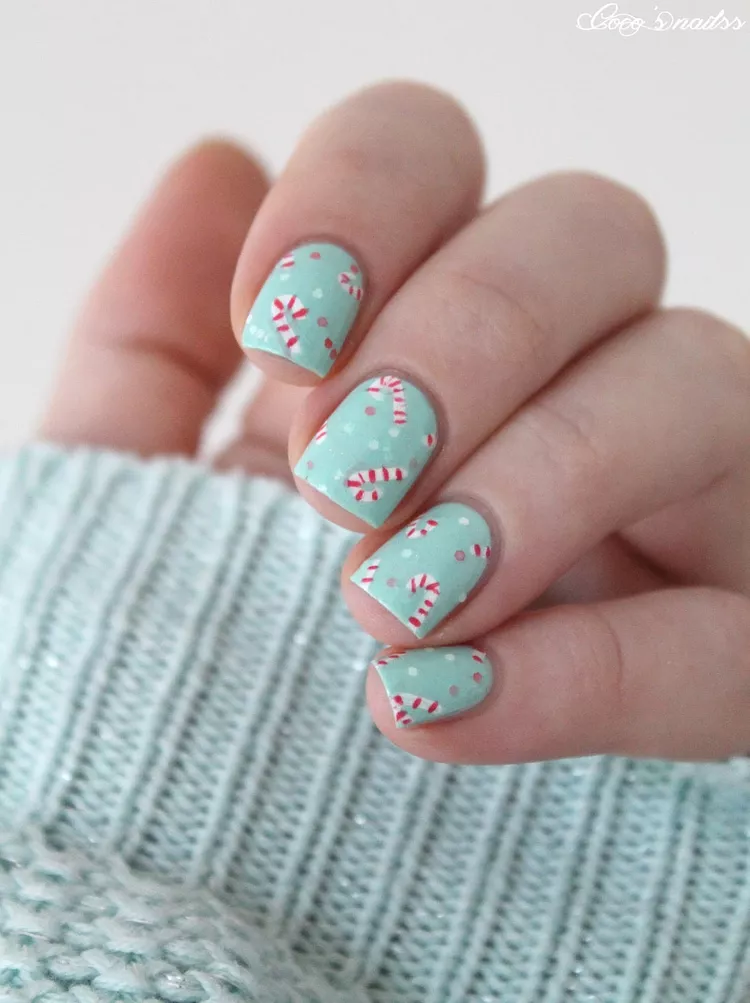 Gradient Corners:
For a bright yet subtle holiday look, use tape to create gradient corners with your favorite red polishes.
Merry Metallic:
These metallic nails will add extra merriment to your holiday season.
Starbucks-Inspired:
If you're a pumpkin spice latte fan, these Christmas nail ideas is for you.
Twinkling Gold:
Keep it minimal yet festive with a gold glitter half-moon design.
https://www.southernliving.com/thmb/95cYBE0G_8ZNufnb9WNz2KDsyrc=/750×0/filters:no_upscale():max_bytes(150000):strip_icc():format(webp)/gold-glitter-173699b05a3f4992b06f783e72533edc.jpg
Holly, Jolly Stickers:
Embrace your festive side with easy-to-use decals featuring holly and mistletoe.
Jingle Jewels:
Add some sass to your manicure with jewel-toned green and nail jewels for a festive look.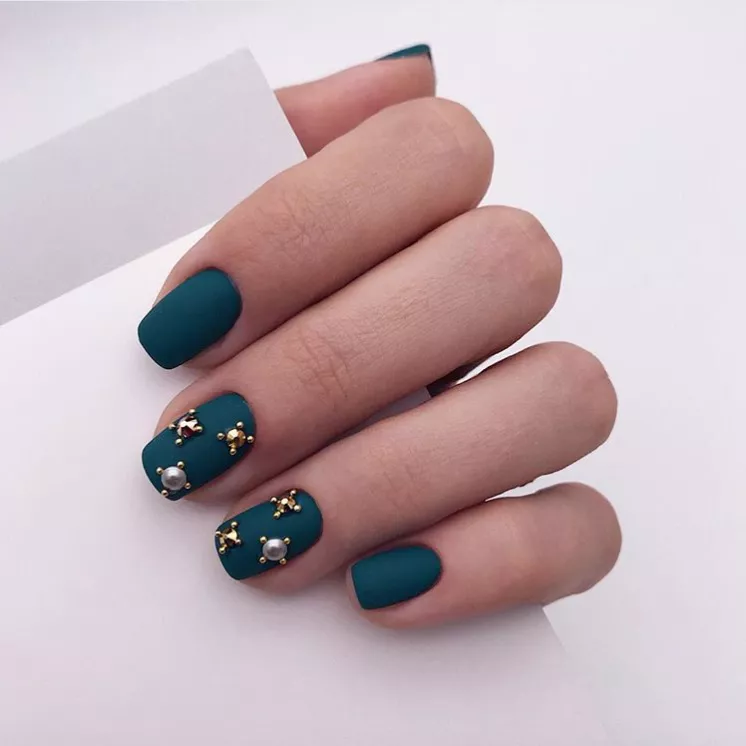 Festive Penguins:
These cute penguin-themed nails will put a smile on your face.
Flannel Flair:
If you're all about cozy hygge vibes, these flannel nails are perfect for the season.
Tropical Christmas:
Heading to a warm beach for the holidays? Embrace the tropical spirit with Christmas nail ideas.
Frozen-Inspired:
Pay tribute to the jolly snowman Olaf with these Frozen-inspired Christmas nail ideas.
Grinch Green:
Celebrate the classic Christmas movie proudly on your nails.
This holiday season, let your nails do the talking and spread extra festive vibes wherever you go. Whether you choose a classic red, a cozy plaid, or a whimsical candy cane design, these Christmas nail ideas will surely add a special touch to your look. So, go ahead, pamper yourself, and embrace the holiday spirit from your fingertips to your toes!