That time of the year is finally around the corner when people pull in their winter socks and get set to decorate their homes & spread smiles!
Yes, we are talking about Christmas and we have updated our Christmas quotes collection with the best ones this year!
It's the season of joy and happiness and that's exactly what our inspirational and cute Christmas quotes are all about.
Best Christmas Quote
The magic of Christmas never ends, and it's greatest gifts are family and friends.

Jesus is the light of the Christmas. The joy of our heart and hope of the world.

Christmas is a season not only of rejoicing but of reflection." (Winston Churchill)

"Christmas isn't a season. It's a feeling." (Edna Ferber)

"Christmas is joy, religious joy, an inner joy of light and peace." (Pope Francis)

"Maybe Christmas, the Grinch thought, doesn't come from a store." (Dr. Seuss)

"I will honor Christmas in my heart, and try to keep it all the year." (Charles Dickens)

"Christmas is the day that holds all time together." (Alexander Smith)

"He who has no Christmas in his heart will never find it under a tree." (Roy L. Smith)

Santa Claus has the right idea – visit people only once a year." (Victor Borge)

"Christmas is the season of joy, of holiday greetings exchanged, of gift-giving, and of families united." (Norman Vincent Peale)

"The best way to spread Christmas Cheer is singing loud for all to hear." (Elf)

Merry Christmas, Happy New Year, and Best Wishes to you and yours.

May your holidays be wreathed in joy.

Wishing you all the wonder and joy of a child on Christmas morning.

From our family to yours, have a magical, marvelous, and merry Christmas!

May you have a December to remember.

It's time to fall in love with Christmas all over again.

Christmas is in the air. Take time to breathe it in.

As you open your presents, may you get wrapped up in the Christmas spirit.

May the joy you find this Christmas follow you throughout the new year.

Have the Merriest Christmas Ever.

Have a sleighful of fun this holiday season.

May peace, joy, and love find their way under your Christmas tree.

This Christmas, may your heart be light and your stocking heavy.
Curated Collection of Christmas Quotes on Love & Inspiration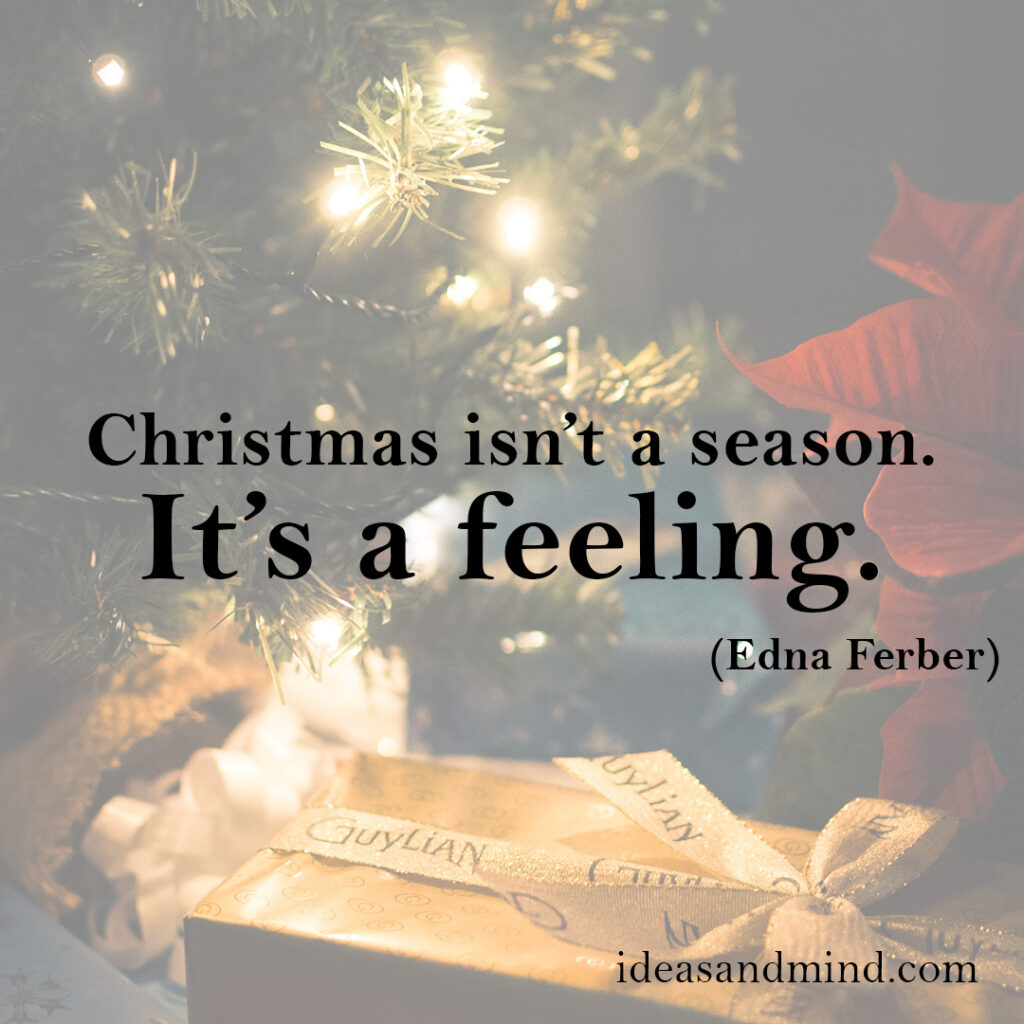 We all would agree on this – it's never too early to enjoy the Christmas spirit & be happy. And why not, it is the most wonderful & awaited time of the year. So, no matter if you're searching for some love quotes for Christmas, inspirational Christmas quotes for the perfect holiday card inscription, or struggling to find the best Merry Christmas quotes to share with your friends, here are our most favorite selections that are sure to make the holiday season brighter, merrier, and lovelier!
The festive season everyone has been waiting for is finally approaching. What does it mean?
It's time to deck your halls, bake your Christmas cookies and embrace all things merry and bright!
Christmas is considered the most wonderful time of the year worldwide for good reason. But we understand it can be easy to get lost in the hustle and bustle of the preparations for the holiday season. We won't be surprised to see a to-do list as long as a person himself. So before Santa comes down the chimney or enters through your windows, you've got so many things to do.
Decorate your Christmas tree, plan fun Christmas activities, buy gifts, and the most important one – curate Christmas wishes for your loved ones.
While we wish we would help you bake the perfect cookies, we can still make the preps easier for you with our customized collection of long & short Christmas quotes.
Be it the Christmas love quotes that you are looking for, funny quotes to share with your friends this merry season, or inspirational quotes for your family and Christmas tree decoration – we have got you!
Enjoy this season of unbridled consumerism, nonsensical customs, and rampant overeating.

Remember that Christmas is about more than presents. There are also cookies.

Just a reminder that if you hear footsteps on your rooftop this Christmas… run, it's Krampus!

May you be at peace, at least until your next credit card statement.

It's Christmas, so watch out for falling reindeer poop.

Pretty sure you're landing on the Naughty List again.

Knock the elf off the shelf and have some real fun this Christmas.

I'm dreaming of a white Christmas, but I know I'll be in red before it's over.

Hold onto your chestnuts – Christmas is almost here.

Christmas comes once a year, though the debts can last considerably longer.
Didn't get time to plan wishes for your beloved ones? We won't blame you if you were unprepared by the time the holiday season finally arrived. We know you want to sit back on the couch with a little eggnog and binge watch all your favorite Christmas movies. But who's gonna prepare the list of cards to write and mail before the day is here?
Christmas memories are wonderful. Let's make some more of them.

Christmas is magic. May it enchant you with feelings of hope and wonder this holiday season.

I wish you peace, love, good will, and all the other blessings of Christmas.

As the story of Jesus teaches us, Christmas can be the start of great things. I hope there are many great things in store for you in the coming year.

You have a permanent place on my Nice List (and I don't even have to check twice).
A lovely thing about Christmas is that it's compulsory, like a thunderstorm, and we all go through it together." – Garrison Keillor

"Mail your packages early so the post office can lose them in time for Christmas." – Johnny Carson

"He who has no Christmas in his heart will never find it under a tree." – Roy L. Smith

"I haven't taken my Christmas lights down. They look so nice on the pumpkin." — Winston Spear

"Who's the bane of Santa's life? The elf and safety officer." – Catherine Tate

"This holiday season, no matter what your religion is, please take a moment to reflect on why it's better than all the other ones." – Guy Endore Kaiser

"The Supreme Court ruled against having a nativity scene in Washington DC. This was not for religious reasons. They couldn't find three wise men and a virgin." – Jay Leno

"A Christmas candle is a lovely thing; It makes no noise at all, But softly gives itself away." – Eva Logue

"Santa Claus wears a Red Suit, he must be a communist. And a beard and long hair, must be a pacifist. What's in that pipe that he's smoking?" – Arlo Guthrie

"May Peace be your gift at Christmas and your blessing all year through!"

"Christmas is the season when you buy this year's gifts with next year's money."

May the beauty of Christmas take your breath away.

Spending money on someone is nice, but spending time with them is nicer. The Christmas gifts will one day lose their luster – the memories of loved ones never will.

Hold onto the Christmas spirit for as long as you can.

May the spirit of Christmas swirl around you like snowflakes dancing on the wind.

I don't care if I land on the Naughty List this year. With all the wonderful people in my life (including you), I already have everything I need.

Christmas is a reminder that Somebody up there loves us.

Enjoy the presents under your Christmas tree, but more importantly, enjoy the people around it.

Remember: You're never too old to search the skies on Christmas Eve.

Wishing you a sleigh-ful of Christmas cheer, not just for the holidays but for the whole coming year.

The Christmas spirit is all about helping others. Wouldn't it be great if we had more of that all year round?

As you go dashing through the busy holiday season, take time to appreciate the true blessings of Christmas: the moments with family, the companionship of friends, and the fellowship with all.

May your Christmas sparkle and your New Year shine.

A little more sparkle, a little less stress. This Christmas, I wish you the very best.
Latest Christmas Cute Quotes, Sayings, Messages, & Christmas Poems for Wishes
Well, celebrate this festive season with your friends, family, and everyone with sweet sentiments and personalized quotes.
May your Christmas be very merry, and your New Year super duper!

Ho-Ho-Hope you have a holly jolly Christmas.

Hope this holiday season sends you over the rainbow and under the mistletoe.

Merry Christmas! Staying on the Nice List, I trust?

Keep your nose and your chimney clean this Christmas season.

All I want for Christmas is more friends like you.

Thinking of you warms my heart on a cold December night.

Remember to clean your chimney this Christmas, lest Santa find it un-soot-able.

You make everyday seem like Christmas.
We have the perfect love quotes, inspirational quotes, cute quotes, and Christmas tree quotes to make your day even better and lessen your burden.
Choose the best ones to bring a smile on your loved ones' faces and be ready to thrill them with the unending holiday spirit. Our Christmas quotes are ideal for adding that extra sparkle to your holiday social media posts too!