Your kitchen won't be complete without any cabinets. Kitchen cabinets are an essential part of your kitchen design because these improve the aesthetics and organization of the space. They can also increase your home value, making your property more attractive in the real estate market.
To enjoy the benefits of having kitchen cabinets, you need to select which ones to install in your home. Aside from the costs involved, options with the wrong design, style, or size can negatively impact the function and appearance of the area.
If you're planning to remodel your kitchen soon, follow these tips in order to determine the right cabinets for you:
Start With A Budget
Before you look for inspirations online, assess how much you can comfortably spend on your kitchen cabinets. Setting a budget should be at the top of your to-do list to help you narrow down your options and save you from the heartache of looking into cabinets that are beyond your budget.
Depending on the size, materials, and quality, kitchen cabinets can cost anywhere from USD$2,500 to USD$24,000. On average, most new cabinet prices range from USD$4,000 to USD$13,000.
Aside from the cost of the materials and installation, don't forget to allocate an emergency fund. Ideally, you should set aside at least 20% of your budget for contingencies.
Assess Your Kitchen Style
When choosing kitchen cabinets, don't forget to take your existing kitchen style into account. Your cabinets should complement the look, size, and layout of your kitchen.
For starters, the colors of your kitchen cabinets should match the color palette present in your kitchen. If you have an all-white kitchen, kitchen cabinets in dove or navy are great options. For black-and-white kitchens, gray cabinets can soften the contrast in the space.
Pay attention to the size of your kitchen as well. If you own a small kitchen, consider installing bespoke cabinets. These can be hidden in tight spaces and even behind traditional doors.
Choose The Material
The material used to make kitchen cabinets can significantly affect their visual appeal and longevity, which is why you should be careful in selecting them. Aside from the cost and appearance, you should conduct some research to know the pros and cons of each material.
In general, kitchen cabinets can be made from one of the following:
Hardwood: This is the most durable material used for kitchen cabinets and comes in different painted finishes. However, too much exposure to humidity can cause hardwood to warp over time.
Eco-friendly options: These refer to recycled, reclaimed, or renewable materials. Installing eco-friendly kitchen cabinets is a great way to help save the environment and reduce your carbon footprint. One drawback of eco-friendly kitchen cabinets is their price.
Laminate: Made from compressed wood, laminate is a type of synthetic material that's durable and stylish. Laminate kitchen cabinets are also scratch- and stain-resistant. This material is durable but can still get chipped.
Metal: Metal kitchen cabinets can withstand heat, humidity, and stains. However, this material is costly and prone to dents and scratches. Even fingertips are visible on the surface of metal kitchen cabinets.
Thermofoil: This material is made from vacuum-pressed vinyl and comes in different designs. Although pleasing to look at, thermofoil cabinets can easily get damaged when exposed to excessive heat.
Think About The Hardware
Your kitchen cabinets play a vital role in your kitchen, so make sure to pick the best hardware for them. The right pulls, knobs, and handles can add more visual appeal to your cabinets and improve the overall ambiance of your kitchen.
If you're clueless about which kitchen cabinet hardware to use, get inspiration from these trends:
Brass: Brass drawer pulls are becoming a staple in many modern kitchens. This style adapts to different color palettes and kitchen styles and can make your space look luxurious in an instant.
Black: Black hardware will look good on any kitchen cabinet, regardless if yours are painted in white or made from unstained wood.
Painted porcelain: Hardware made from porcelain can add hints of color and texture to your kitchen cabinets. If you're planning to adopt this trend, pick porcelain hardware that's in contrast to the color of your kitchen cabinets.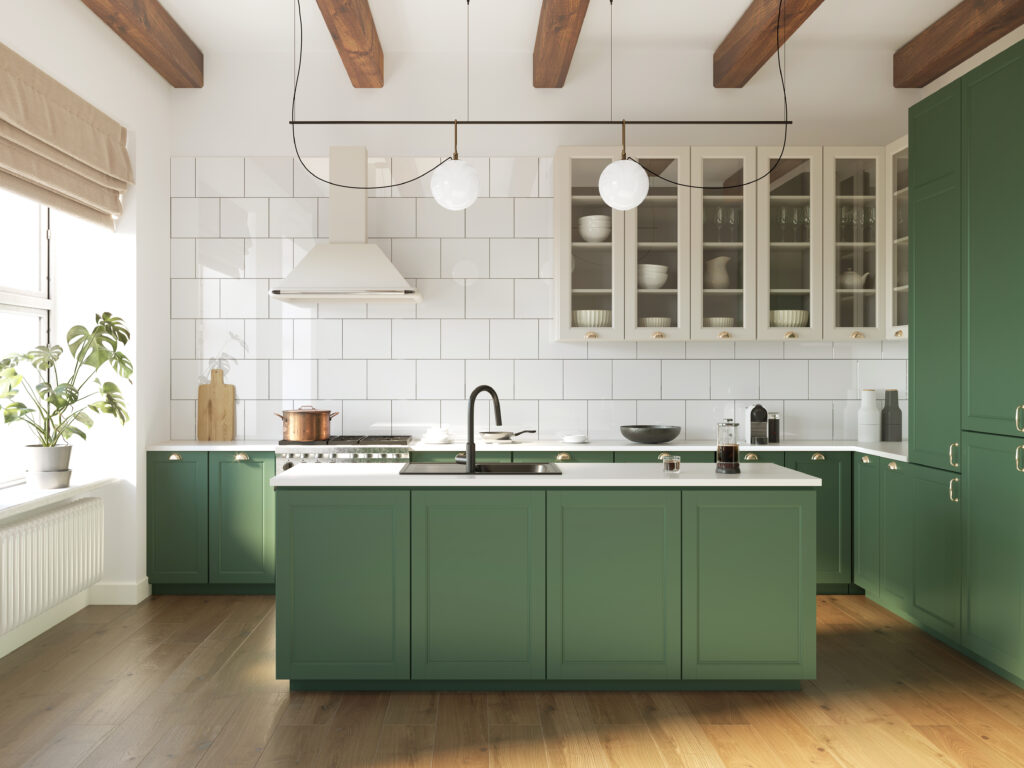 Consider The Finish
The final look of your kitchen cabinets depends on the finish you choose. Nowadays, you can opt for different finishes to create a particular theme for your kitchen cabinets.
When it comes to kitchen cabinet finishes, the following are the most common:
Antique brass: This finish works best for light-colored kitchen cabinets.
Black: This is a neutral finish ideal for modern or traditional kitchen cabinets.
Silver satin: This is one of the best finishes for dark-colored cabinets.
Hire Pros ASAP
Now that you know which kitchen cabinets to invest in, start looking for professionals who can make and install them. By hiring highly experienced and fully equipped contractors to work on your kitchen cabinets, your kitchen will look and feel new in no time.

Find out more about the custom cabinet process from this 1 Stop Cabinets blog.