Mark Zuckerberg has recently announced the initial release of Threads, an application developed by the Instagram team, specifically designed for text sharing.
Threads provides a fresh and distinct platform for real-time updates and public discussions, catering to both creators and casual users.
The goal is to ensure Threads is compatible with open and interoperable social networks, as Mark Zuckerberg strongly believe in the potential to shape the future of the internet.
Building upon the global success of Instagram, the innovative minds behind the platform have crafted Threads—a space where connections flourish and ideas come to life.
Just like its predecessor, Threads invites you to forge meaningful bonds with friends and creators who share your passions, seamlessly bridging the gap between Instagram and other vibrant platforms.
And the best part? They've amplified your control and safety features, ensuring your experience is nothing short of extraordinary.
Engage in Conversations from Instagram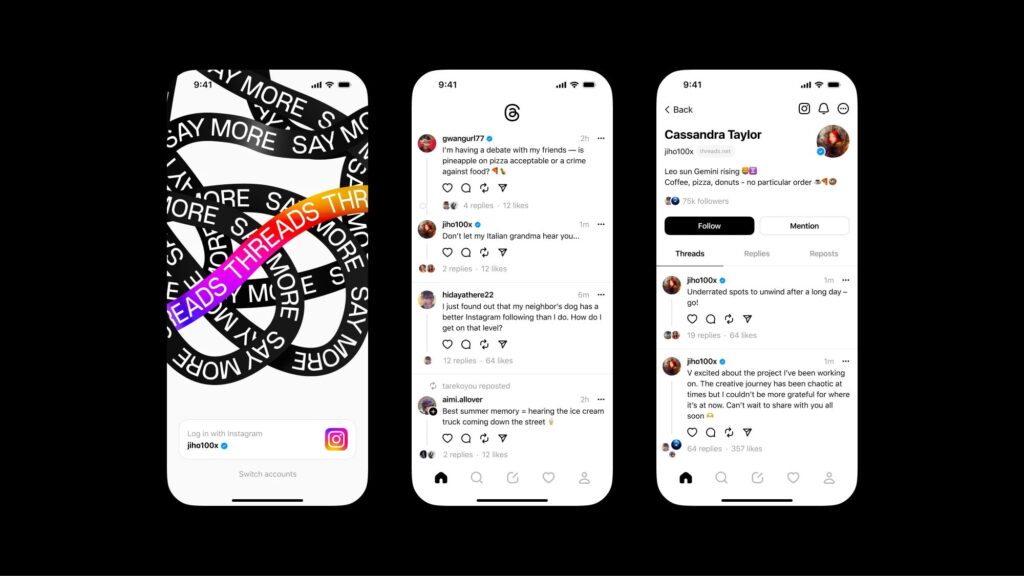 Threads opens up a world of possibilities for seamless and meaningful connections, just like its sibling platform Instagram.
By seamlessly logging in with your Instagram account, you effortlessly carry over your username and verification to Threads.
But that's not all—Threads offers a chance to craft a profile tailored specifically for this exciting new space.
Whether you're under 16 years old or under 18 in certain regions, Threads has got you covered.
Upon joining, younger users automatically receive a private profile, ensuring a safe and secure environment.
As you explore Threads, you can choose to follow the same accounts you already love on Instagram.
Plus, you'll discover a vibrant community of individuals who share your passions and interests.
Inclusivity lies at the heart of Threads, and it proudly incorporates essential accessibility features from Instagram, such as screen reader support and AI-generated image descriptions.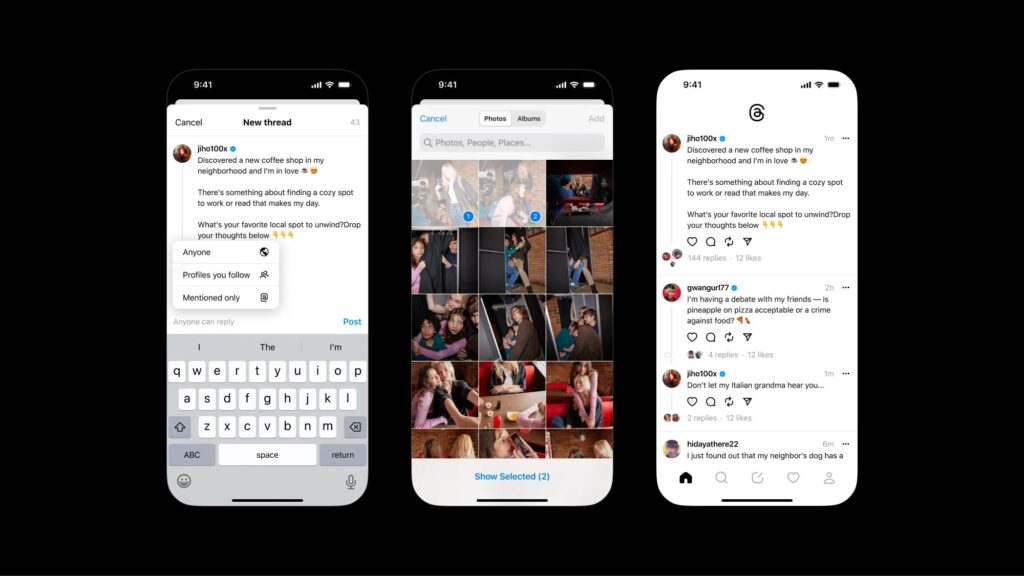 Imagine a personalized feed that brings together the best of both worlds.
Threads curates a dynamic blend of posts from the accounts you follow, alongside recommendations from talented creators you haven't yet encountered.
Dive into captivating stories, engage with thought-provoking content, and discover fresh perspectives.
With the freedom to express yourself, Threads welcomes posts up to 500 characters long, accompanied by striking visuals—links, photos, and videos up to 5 minutes in length.
And when you find a gem of a post, easily share it to your Instagram story or spread the word across other platforms with just a few clicks.
Threads is not just about connecting—it's about creating an environment that fosters positive and fruitful conversations.
Control is in your hands as you decide who can mention or reply to you within Threads.
Just like on Instagram, you have the power to filter out specific words from replies to your threads, shielding yourself from unwanted noise.
And here's a bonus: any accounts you've blocked on Instagram gets automatically blocked on Threads. 
Safety takes center stage 
The commitment to user well-being is unwavering. Mark Zuckerberg, the visionary behind Threads, understands the importance of safeguarding the community.
With over $16 billion invested in building teams and technologies, the goal is to protect users and maintain the highest standards of integrity.
Instagram's Community Guidelines serve as a guiding light for content and interactions within the app, providing users with a secure and enjoyable space to connect.
But Threads doesn't stop there—it has grand plans to embrace interoperability and break barriers.
Mark Zuckerberg envisions a future where Threads becomes compatible with ActivityPub, the open social networking protocol established by the World Wide Web Consortium (W3C).
This groundbreaking move will enable Threads to seamlessly connect with other apps that support the ActivityPub protocol, including renowned platforms like Mastodon and WordPress.
Can you imagine the possibilities?
Interacting with individuals across diverse platforms, forging connections that were once unimaginable on traditional social apps.
The future is bright, as more platforms, including Tumblr, express their intentions to support the ActivityPub protocol.
The Instagram team believes in empowering users and giving them control.
Threads is committed to offering you more freedom over your audience.
In collaboration with ActivityPub, they are working towards providing you with the option to switch from Threads to another service while effortlessly transferring your content.
This vision ensures that people using compatible apps can follow and engage with Threads users, even without a Threads account. 
The result? A vibrant, interconnected network that transcends boundaries.
For those with public profiles on Threads, your captivating posts will reach new audiences through other apps, opening doors to exciting possibilities.
Private profiles offer a personal touch, granting you the ability to approve users on Threads who want to follow you and engage with your content, mirroring the experience you cherish on Instagram.
Escape the Noise
Threads empowers you with an arsenal of tools designed to nurture meaningful and fruitful conversations.
Here, you call the shots, dictating who can mention or reply to you within the Threads community.
Just as in the realms of Instagram, you possess the power to curate your experience by filtering out specific words, effortlessly shielding yourself from unwanted noise. 
Managing profiles on Threads is a breeze too, with the convenience of unfollowing, blocking, restricting, or reporting a profile—all just a tap away in the three-dot menu.
What's more, any accounts you've blocked on Instagram automatically meet the same fate on Threads, ensuring your peace of mind as you navigate this captivating space.
Safety and Compatibility with Interoperable Networks
Mark Zuckerberg and the visionary team are unwavering in their dedication to prioritize your safety within the Threads app.
Drawing upon the time-tested pillars of Instagram's Community Guidelines, they leave no stone unturned in upholding a secure and welcoming environment.
Mark's unwavering commitment is evident in the substantial investment of over $16 billion in building teams and pioneering technologies, all in the name of safeguarding users like you.
With an unyielding focus on advancing integrity efforts, the Threads community stands united in protecting the well-being of every single individual, ensuring that your online sanctuary remains a haven amidst the digital landscape.
What's Next?
Prepare for a groundbreaking transformation on the horizon:
Threads is gearing up to embrace ActivityPub, an open social networking protocol championed by the World Wide Web Consortium (W3C).
This exciting leap will usher in a new era of possibilities, enabling seamless interoperability with other apps that also embrace the ActivityPub protocol, including renowned platforms like Mastodon and WordPress.
Brace yourself for extraordinary connections that transcend the limitations of most social apps, as this compatibility unfurls a tapestry of novel experiences.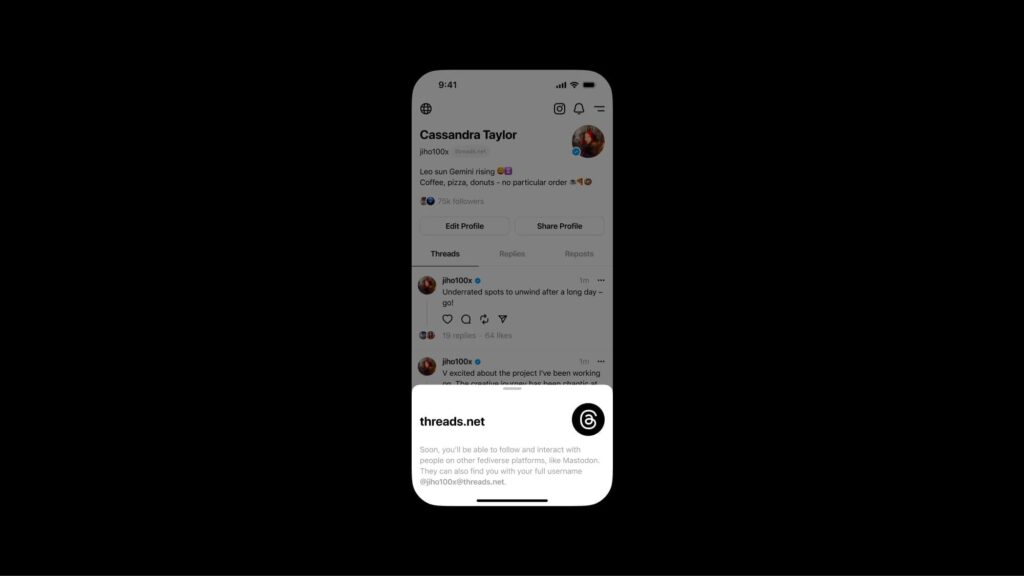 The Instagram team shares an unwavering commitment to empower you with greater control over your Threads audience.
Collaborating with ActivityPub, they envision a future where you can seamlessly transition from Threads to another service while seamlessly transferring your cherished content.
Picture this: people using compatible apps can effortlessly follow and engage with Threads users, erasing the need for a Threads account.
It's a momentous stride toward a vibrant and interconnected network, where diverse communities intertwine.
If you boast a public profile on Threads, your captivating posts will transcend boundaries, reaching new horizons through other apps.
And fear not, if you prefer a private profile, you retain the power to approve users on Threads, enabling them to follow and immerse themselves in your remarkable content, mirroring the cherished experience you've come to love on Instagram.
Prepare to be captivated as Threads, hand in hand with ActivityPub, embarks on a journey to redefine connection and interweave communities like never before.
Get ready to expand your reach, unlock uncharted possibilities, and set foot in a new era of digital exploration. The future is calling, and Threads is leading the way.
At Last…..
Prepare to embark on a journey beyond the ordinary realm of social networking.
Open social networking protocols hold the key to a world where the possibilities extend far beyond simple followings.
Talented developers can now weave their magic, creating innovative features and seamless user experiences that seamlessly integrate with a multitude of open social networks.
This groundbreaking approach not only fuels innovation but also paves the way for exhilarating experimentation like never before.
Imagine having the freedom to choose spaces that align with your values.
Each compatible app within this ecosystem can establish its own unique community standards and content moderation policies.
In this decentralized landscape, you have the power to curate an online experience that truly resonates with your beliefs and aspirations.
It's a new era where the rules are yours to shape, akin to the protocols governing the web and email—standards that have revolutionized digital communication.
Threads, Meta's bold entry into the realm of open social networking, is poised to redefine the way we connect.
By joining this rapidly expanding ecosystem of interoperable services, Threads opens doors to vibrant communities, regardless of the app you choose.
It's a grand invitation to discover like-minded individuals, explore new horizons, and find your place in this interconnected tapestry of online experiences.
The possibilities are boundless, and Threads is here to guide you on this exciting adventure.