Have you ever heard about the influencer marketing industry?
No, then you are missing out on a huge faction of marketing words.
By the end of 2023, the influencer marketing industry is expected to reach a staggering $21.1 billion, prompting brands to recognize the influential power that influencers possess in shaping consumer opinions and generating sales.
However, executing a successful influencer marketing campaign is no simple task.
This is where the top influencer marketing agencies in the United States step in.
These professional and innovative agencies specialize in linking brands with influencers and generating tangible outcomes.
The finest influencer marketing agencies in the US provide a wide array of services, including identifying and reaching out to influencers, devising and planning campaign strategies, creating content, and managing campaigns.
With their expertise, brands can navigate the intricate realm of influencer marketing effortlessly, ensuring that their campaigns are impactful and yield measurable results.
Here are Top 10 Influencer Marketing Agencies
Moburst:
Moburst is a global agency specializing in influencer marketing, dedicated to helping brands exceed their goals and establish themselves as leaders in their industry.
They have a proven track record of success and work with both established industry leaders and emerging startups, including renowned brands like Google, Samsung, Robinhood, Calm, Dropbox, Bumble, Playtika, and more. Moburst offers a comprehensive range of services, from data-driven research and talent selection to creative guidance and post-campaign reporting.
Their team creates engaging briefs for influencers, guiding them throughout the creative process while emphasizing transparent and measurable results through data-driven attribution.
Additionally, Moburst excels at repurposing influencer content across various platforms to maximize media impact.
They have expertise in multiple social media platforms and offer services such as User Generated Content, Social Media Marketing, Social Media Management, Digital Marketing, Talent Management, and Full Service Production.
The Influencer Marketing Factory:
The Influencer Marketing Factory, another top agency, is based in New York and Miami and focuses on helping brands reach and engage Gen Z and Millennials through popular social media platforms like TikTok, YouTube, and Instagram.
They are pioneers in TikTok influencer marketing and provide a comprehensive package for managing multi-channel campaigns.
The agency takes a tailored approach to each client, starting with understanding their KPIs and target audience.
They handle influencer identification, negotiation, content creation, and tracking results, ensuring transparent reporting and ROI analysis.
With recognition from notable platforms like Forbes, BBC, and Yahoo Finance, The Influencer Marketing Factory has demonstrated expertise in calculating and showcasing ROI, generating user engagement, lead generation, and product purchases.
Viral Nation:
Viral Nation is a globally recognized digital and social innovation group specializing in influencer marketing.
They have collaborated with renowned brands like Anheuser-Busch, Disney, Coca-Cola, and Uber. Viral Nation's expertise is exemplified by successful campaigns like the VR launch of Resident Evil 4 on Meta Quest 2, which generated millions of impressions and received top honors at the AVA Digital Awards.
Besides influencer marketing, Viral Nation also operates as a talent agency, representing influencers and providing full social media representation.
They offer an integrated approach, leveraging an AI-powered platform for talent selection, contracting, and approvals.
Their services cover diverse social media platforms and include detailed reporting on KPIs and ROI, ensuring data-driven performance measurement.
NeoReach: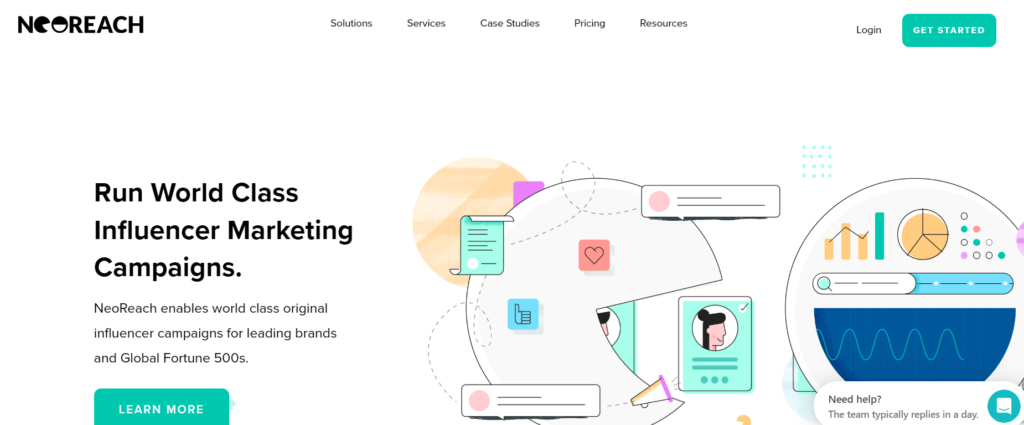 NeoReach is a highly reputable influencer marketing agency known for managing world-class influencer campaigns for leading brands and Global Fortune 500 companies.
They have overseen over $250 million in influencer expenditure and have developed campaign strategies and measurement techniques widely recognized as industry best practices.
NeoReach offers a comprehensive range of services, including campaign strategy, influencer sourcing, contract negotiation, fraud detection, and social account management.
They specialize in marketing across various channels and have successfully collaborated with brands like Sam's Club, NVIDIA, and The HISTORY Channel.
With a focus on large-scale projects and high-profile clients, NeoReach is known for its data-driven approach and experienced team.
Ubiquitous:
Ubiquitous is a tech-driven managed marketplace that focuses on building communities of consumers who actively support brands.
They specialize in Instagram and TikTok marketing, offering services such as micro-influencer marketing, lifestyle photography, and user-generated content.
Ubiquitous connects brands with influencers through their marketplace and provides end-to-end campaign management, content creation, data analytics, and tracking.
With a minimum campaign size of $20,000, Ubiquitous primarily caters to medium-sized brands.
They differentiate themselves by thoroughly screening influencers to ensure authenticity and genuine product interest, resulting in higher participation rates, increased engagement, and greater impact on marketing funnels.
The Goat Agency:
The Goat Agency is a globally recognized influencer marketing and social media agency that has been leading the industry since 2015.
They have worked with prestigious brands like Dell, Nivea, Audi, and Wayfair.
The Goat Agency leverages its vast database of influencers to identify the best matches for brands, creating highly targeted campaigns based on specific audiences and objectives.
They excel in creating full-funnel influencer campaigns across major social platforms, aiming to drive awareness, engagement, conversions, and brand love.
With over 350 employees and office hubs in the UK, USA, and Singapore, The Goat Agency combines creativity and effectiveness to deliver successful influencer campaigns.
ApexDrop:
ApexDrop is a renowned marketing agency in the United States that focuses on building communities of consumers who genuinely support brands.
They have a strong reputation and an impressive client list, with over 500 clients.
ApexDrop specializes in influencer content creation and distribution, offering customizable services according to budget and needs.
Unlike most agencies, ApexDrop doesn't pay influencers to promote products but carefully screens influencers who genuinely care about the brand.
This approach ensures authenticity, high participation rates, increased audience engagement, and a stronger impact on the marketing funnel.
ApexDrop guarantees the lowest cost per engagement (CPE) through its proprietary systems and processes.
The Motherhood:
The Motherhood is a top influencer marketing agency in the United States, known for its handcrafted, creative, and meaningful approach to influencer campaigns.
Since 2006, they have been brokering influencer partnerships between brands and creators, focusing on building personal relationships with their community of influencers.
Motherhood selects influencers manually instead of relying on algorithms, building trust among brands, influencers, and their communities.
Their campaigns have generated impressive results for brands, with social engagement rates surpassing industry averages.
Motherhood offers handcrafted influencer campaigns, personal relationship-building with influencers, and social media management services.
HireInfluence:
HireInfluence is an award-winning influencer marketing agency that has been serving established brands since 2011.
They specialize in influencer campaigns, experiential creativity and fulfillment, talent sourcing, content amplification, and more.
With a focus on talent curation, HireInfluence ensures the perfect fit between brands and influencers, resulting in trend-worthy concepts that build emotional connections and drive consumer behavior.
They offer comprehensive services such as influencer sourcing, contract negotiation, strategy development, campaign management, and post-campaign reporting.
HireInfluence's approach combines intelligence and creativity to craft compelling brand narratives that deliver lasting impressions.
The Shelf:
The Shelf is a New York-based influencer marketing agency that excels in data-driven campaign creation and execution.
They have a team size of 1-10 and primarily cater to small and medium-sized brands, with a minimum campaign size of $100,000.
The Shelf has a strong network of influencers and creators worldwide, allowing them to connect brands with the perfect match for their campaigns.
Their services go beyond influencer matching, encompassing fraud detection, campaign optimization, and real-time campaign monitoring through a client portal.
The Shelf's proprietary platform provides valuable data insights, ensuring the selection of influencers that align with a brand's goals.
They also offer services in Social Media Marketing, Marketing Strategy, and Branding, providing a comprehensive approach to digital marketing.
These influencer marketing agencies in the USA offer a range of specialized services to help brands connect with influencers, develop impactful campaigns, create compelling content, and achieve measurable results.